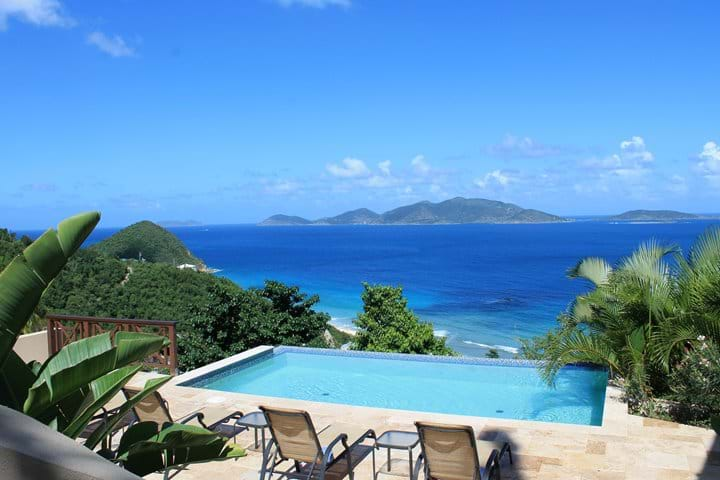 Alfresco Villa is a wonderful luxury secluded property within a private hillside estate overlooking the beautiful Long Bay Beach.  This Caribbean villa rental has 2 pavilions which offer spacious living & plenty of deck space for you to relax......
Details
Alfresco has been finishes to a very high standard, with a swimming pool with virtual infinity edge offering a panoramic view of neighbouring islands Jost Van Dyke, Sandy Cay & onward to other Virgin Islands.  Alfresco is a fantastic vacation rental Caribbean property, for you to enjoy your stay.
You will enter the property through an imposing mahogany door into a mezzanine level which adjoins the living room with stunning views out to sea. Sweep down the curvaceous staircase into the living room & relax into one of the sumptuous sofas. There is a vast selection of channels on the 54" satellite TV, a good selection of DVDs can be watched on the DVD & the music system is right there too if you prefer some music to listen to, either using your own ipod/iphone or something from our collection.  The wonderful main deck is right outside where you can enjoy the fabulous vista, take a dip in the pool or simply enjoy Alfresco living with lunch around the table.  There is an umbrella for you to take in the breezes & enjoy the shade.
The mezzanine leads you to the Kitchen with its well-appointed high end units with granite counter-tops & stainless steel appliances.  Even the kitchen sink is a great place to look out at the amazing sea view.  Should you need any provisions for your arrival, just let us know & this can easily be arranged. The Dining Room beacons you from the kitchen with its majestic views of the islands. The glass & stone table is bespoke in this open air pavilion & gives a nice airy feeling to your dining experience. The dining area is also a great place at night which provides an elegant setting for dinner, whether you are cooking yourself or if you decide to bring a chef in.
From the Dining Room you have easy access down a curving opening arms staircase to the splendorous main deck, planters are filled with local palms, bird of paradise, heliconia, gingers & bougainvillea. Once at the pool, take a dip, enjoy the views & relax in the sun on the comfortable sun beds, there is an outdoor shower on the deck.  In the evening enjoy this area with a cocktail, watch the sun go down, marvel at the fabulous pool colour sequences (programme your personal colour favourites). You might want to rev it up a bit, put on some music & have some friends over you have met during your stay.  
All rooms have large sliding doors which disappear into the walls to open up the house, this offers open plan living & complete flexibility to move around Alfresco with ease. Plenty of books are available, if you don't finish one take it home, please leave one in its place so the next guest has some reading pleasure too. Board games are provided for an evening in.
The bedroom pavilion offers an upper level Master Suite. This has beautiful views of the islands & beyond from the balcony & spacious outdoor private deck. The bathroom is finished with a gorgeous stone Travertine & natural pebbles, the oversized shower offers you an invigorating experience. You can marvel at the wonderful wood ceiling as you look up from your king size bed handcrafted in reclaimed teak from Bali. You will be sleeping under Egyptian cotton percale which will give you a luxurious night's sleep.  If you stay in October, there is a wonderful Jacaranda tree full of cotton like flowers which cascades over the outdoor private terrace leading out from the bathroom.  There is also an extra single bed which can be used, should you wish to have one of the children in with you.
The second bedroom can be found at deck level & offers comfy easy access. You can choose either twins or a king size bed for this room depending on your needs.  Same Egyptian cotton for that perfect night's sleep.  Again this bathroom is finished in lovely stone Travertine & natural pebbles with beautifully bespoke mill work in the bathroom.  The private wrap around deck can be used as another area to relax & enjoy your stay. We have an extra single bed if this works better for a family stay or perhaps a 7th guest.
The third bedroom is very private & leads down from the main deck via steps to an outdoor space overlooking trees & landscape. You can enjoy the sea views & ocean sounds at night if you wish to. This bedroom has a low 4 poster Queen Bed with local art work to give a contemporary feel to this space.  Again luxury Egyptian cotton is featured throughout the property.  The bathroom is finished with stone Travertine and natural pebbles in your lovely spacious walk in shower. At Alfresco you can enjoy the privacy of this bedroom.  Ideal for 2 couples staying, so you have some privacy.
This property is easily accessible to Long Bay Beach if you want to drive or walk, up to you.  Smugglers Cove is around the corner (need to drive) unless you are fit!  There are local restaurants within driving distance of the property, on Long Bay Beach Tropical Fusion is the nearest restaurant, Sebastian's is just over the hill, you have The Sugar Mill restaurant just on from that & other local eateries, D'Coalpot restaurant is in Carrot Bay which is a fabulous place to eat locally.  Soper's Hole Marina is just 6 minutes ride away, and there's a local restaurant there where you can watch the sailors coming in after a day at sea.   You can also look around the marina & see all the larger yacht's moored up or just stopping by for some supplies. A nice place to relax.
Alfresco overlooks Long Bay Beach, neighbouring islands Jost Van Dyke & Sandy Cay within this private hillside estate.  The villa offers easy access to explore the beaches, restaurants, shops & bars.  Alfresco is one of the best of BVI Vacation Villas.
Facilities include:-
Close to Long Bay Beach

3 Air Conditions Bedrooms, Master King, 2nd bedroom (Kings or Twins), 3rd bedroom Queen 

Extra single bed for 7th guest (upon request)

Linens and Beach towels

Full Kitchen

Dishwasher

Satellite/Cable TV

Wi-Fi

BBQ

In/Outdoor dining
Housekeeping provided. 
Check in is 3pm and Check out is a 11am

7 Guests  
Rates
Quoted Currency: American $
Rental rates are for the entire property.
| Description | From | To | Weekly | Week Night | Weekend Night | Minimum Stay |
| --- | --- | --- | --- | --- | --- | --- |
| Winter 1 - 4 Guests | 04 Jan 20 | 17 Apr 20 | - | $740 | $740 | 7 Nights |
| Winter 5 - 6 Guests | 04 Jan 20 | 17 Apr 20 | - | $860 | $860 | 7 Nights |
| Summer 1 - 2 Guests | 18 Apr 20 | 31 Jul 20 | - | $540 | $540 | 5 Nights |
| Summer 3 - 4 Guests | 18 Apr 20 | 31 Jul 20 | - | $640 | $640 | 5 Nights |
| Summer 5 - 6 Guests | 18 Apr 20 | 31 Jul 20 | - | $695 | $695 | 5 Nights |
| Summer Special Rate 1 - 2 Guests | 01 Aug 20 | 31 Oct 20 | - | $450 | $450 | 5 Nights |
| Summer Special Rate 3 - 4 Guests | 01 Aug 20 | 31 Oct 20 | - | $475 | $475 | 5 Nights |
| Summer Special Rate 5 - 6 Guests | 01 Aug 20 | 31 Oct 20 | - | $500 | $500 | 5 Nights |
| Christmas/New Year 1 - 6 Guests | 16 Dec 20 | 06 Jan 21 | - | $1100 | $1100 | 10 Nights |
10% Government Hotel Tax (not included)
$300 Damage Deposit
Availability
Guestbook
Unbelievable Villa                                                              

★ ★ ★ ★ ★

We had another wonderful stay at Alfresco. It is such a unbelievable villa. Made it back home late last night. Thanks to everyone involved to help make this another memorable vacation.  Regards, Jim

Date of arrival Sep 21, 2019 

Glad we chose Alfresco                                                   ★ ★ ★ ★ ★

Alfresco turned out to be great choice for us. Sometimes when you travel somewhere for the first time you look around and decide on the next trip you would make some different choices. This was not the case for us. This house was the right house in the right location. There is not better area of Tortola to be in, in my opinion. The house was awesome in every way. We had three couples and this three bedroom layout was great. The outdoor area and pool were great and the view from those areas and every bedroom and porch off of each were great. Thank you Sharlene for showing us how to get there. We will be back.

Date of arrival July 4, 2019  Griff  Orange, Texas

Paradise                                                                           ★ ★ ★ ★ ★

The layout of this villa is so well thought out. Would stay there again in a heartbeat!

Date of arrival June 4, 2019  Tyra D.

Our island "home away from home                                 

★ ★ ★ ★ ★

Our island "home away from home"! We were last there Feb. 23 - March 16, 2019. This was our fourth trip back to Al Fresco, our seventh to Tortola. While there were lots of changes on the island due to Hurricane Irma, we found Al Fresco to be just as welcoming and lovely as ever! The pool, the vista over to Jost Van Dyke and the hillside down to Long Bay still takes our breath away. This is truly a perfect place to relax and decompress. "Must try" restaurants include The Bananakeet, D'Coal Pot and Quito's. Thanks to Allison, Neil, Sam, JT, Charlene (who greeted us) and Louise (our housekeeper). They are a great team that truly enhance the island experience. Also, a car rental from Jerry's is a must to get into all the nooks and crannies of the island! Can't wait for stay #5 at Alfresco"

Date of Travel - May 04 2019 - C Urban

Best Tropical Vacation!                                                      ★ ★ ★ ★ ★

Alfresco was the best tropical vacation villa we've ever experienced - with such large welcoming common areas, spacious bedrooms, and ample private space options for quiet personal time. We loved the north coast, western Tortola location - with sufficient elevation to catch the breezes and giving us a post card view of Jost Van Dyke. Sam's colleague PattyAnn was available as needed for miscellaneous questions and advice - a superb service we've never experienced with prior villa rentals. All three sets of our guests luxuriated in and were wowed by the accommodations - making it extra gratifying to be their hosts. The outdoor shower was a hit for de-salting after a day in the ocean. Your kitchen served us well by easily accommodating our needs for meal preparation. The rental SUV through Jerry's ran flawlessly - with vehicle availability at the airport expediting our arrival to the villa. For anyone desiring either bareboat or crewed powerboat rental, I can heartily recommend Island Time Powerboat Rentals at Nanny Cay - which we utilized nine times over our 22 day stay.  A triple thumbs up experience. With any luck, we'll be back to book Alfresco in the not too distant future.  With best wishes for you and gratitude for your delightful venue, Geof

Date of arrival March 29, 2019  Geof & Family

Home Away from Home!                                                   ★ ★ ★ ★ ★

Our island "home away from home"! We were last there Feb. 23 - March 16, 2019. This was our fourth trip back to Alfresco, our seventh to Tortola. While there were lots of changes on the island due to Hurricane Irma, we found Al Fresco to be just as welcoming and lovely as ever! The pool, the vista over to Jost Van Dyke and the hillside down to Long Bay still takes our breath away. This is truly a perfect place to relax and decompress. "Must try" restaurants include The Bananakeet, D'Coal Pot and Quito's. Thanks to Allison, Neil, Sam, JC, Sharlene (who greeted us) and Louise (our housekeeper). They are a great team that truly enhance the island experience. Also, a car rental from Jerry's is a must to get into all the nooks and crannies of the island! Can't wait for stay #5 at Alfresco! 

Date of arrival February 23, 2019 Cheryl Urban

Amazing experience with our family!                                 

★ ★ ★ ★ ★

We took our two kids to Alfresco Villa for a family winter vacation. The villa is beautiful, the views are breathtaking and the owner/ property manager give great instruction and advise on anything you may need. I even asked where to get bug spray and beach toys for my 3 year old, both items showed up at our door the same day! We would denfitly stay here again. It was a real experience !!!

Date of arrival January 20, 2019 - Ray & Melanie

We were sad to leave!                                                        

★ ★ ★ ★ ★

Thank you so much, we had a wonderful time!  You have a great villa, I so miss those views we woke up to every morning!  We were sad to leave!  Merry Christmas!

Date of arrival December 1, 2018 - Ron & Debi

Fantastic View                                                                     

★ ★ ★ ★ ★

We had a great time in Alfresco beautiful villa and fantastic view.  Hope to be back in the future.

Date of arrival November 16, 2018 - Sachs Family

Beautiful property                                                                

★ ★ ★ ★ ★

Another visit to Alfresco, Sam was great & her staff!  We love the villa, I'm only sorry I had to leave !!!

Date of arrival November 8, 2018 - Brian

Spectacular property                                                          

★ ★ ★ ★ ★

Alfresco is a spectacular property. It is everything you can imagine plus more. The views are stunning, the pool fabulous and everything about the house was wonderful. The layout of the house is well thought out and is terrific for reading in a private getaway or getting the group together in the central areas of the house. The assistance and advice that Allison gave prior to our arrival was second to none and the help we received from members of the staff was extremely helpful. We are already in discussions about dates for our next stay at Alfresco Villa.—

Date of arrival September 15, 2018   Jim & Cindy 

We loved Alfresco!                                                             

★ ★ ★ ★ ★

We loved Alfresco! It was so accommodating for what we needed. The view was phenomenal and the pool was perfect! Everyone on the island was so attentive and the management staff you have there worked well with us as we arrived later than expected due to flights being delayed. We will be staying again for sure! 

Date of arrival May 31, 2018 

A beautiful place to be able to call home for a week!         ★ ★ ★ ★ ★

We had a wonderful stay on Tortola in Alfresco. The house is gorgeous, with outdoor spaces abounding - plenty of room to gather as a family (5, with 3 older children) and plenty of space, indoor and out, to read to find privacy to read or nap or enjoy the view. Luxuriating in the pool looking out over the ocean to Jost Van Dyke is amazing, and having everything so well laid out and appointed around you made our week a dream. The island itself is an adventure to discover. The guidebook in the house is very helpful and we found our way to many different beaches on the North Side where we snorkeled and relaxed, climbed Sage Mountain, rented a boat for the day, and enjoyed dinners out as well as in. The owners will recommend 4W drive and it is very handy to have - we had some rain showers and it makes you feel nice and secure to have 4W drive under you. Making the arrangements couldn't have been easier, and everyone involved was extremely helpful and responsive to our questions in preparation for going and while we were there. Thank you for helping us have a wonderful family vacation!

Date of arrival  July 31, 2017

SPECTACULAR views in BVI!

                                            ★ ★ ★ ★ ★

Alfresco simply is the MOST beautiful villa with the most SPECTACULAR views in BVI! Not only is it in a great location, high above Long Bay and close to Soper's Hole, Smuggler's Cove, etc., but the views are as picturesque as you can possibly imagine. Each room has it's own full bath with walk in, open showers, Air Conditioning (thank you!!!), the kitchen is wonderful and we ate outside most nights. Why would you go out when you can enjoy such a gorgeous setting? We all enjoyed the pool, especially my boyfriend Marc! Alfresco is the best place on the island to watch the sunset over Jost Van Dyke! Once that is done, get ready for stargazing! Simply beautiful! None of us wanted to go home! Alfresco is very tastefully decorated, comfortable, with a great layout. Just enough space for us and the PERFECT villa for our stay on Tortola. Sam Pierce and her team at Villas of Tortola did a great job accomodating to our needs! WE WILL DEFINITELY BE BACK! Thank you so much for sharing this beautiful villa with us! Oh...by the way, the flora and fauna were just gorgeous!

Date of arrival - July 23, 2017 M Sullivan

Views, Views, and More Views!!                                       ★ ★ ★ ★ ★

Our family had a wonderful time at Alfresco. Allison and Sam were very helpful and they were available whenever you had a question. Thank you so much! Their efforts to make our visit seamless started before we arrived and continued until we were on the home bound ferry. 
Alfresco is a very special home and we enjoyed every minute of our stay there. We found the kitchen well-appointed and we had everything we needed to cook great meals. The layout of the house allowed everyone their own space and also privacy when desired. It would have been nice to have had air conditioning in the main house though. The July temperatures made it difficult to cook until well after sundown. However, that just meant more time in the gorgeous pool and taking in the absolutely breathtaking views. Thanks for sharing your beautiful home with us.

Date of arrival   July 14, 2017

 

Hillside Perfection                                                             ★ ★ ★ ★ ★

We sought out Tortola in hopes of finding some quiet, relaxing family time. The biggest part of that hope was finding the perfect place to call home for a week. Alfresco was that answer. The house was stunning, with views that caught your eye every time you turned your head. We used the well-appointed kitchen most nights, including grilling out under the stars with the sound of the ocean in the background. While we did several day trips to places like Virgin Gorda, Smuggler's Cove, and Roadtown, everybody was most content spending the days being lazy by the pool...reading, sleeping, and laughing. My family left feeling content, rested, and most importantly, reconnected. 
A special Thank You to Allison and Sam for staying in contact with us, helping up organize a car rental, and detail the best ways to get to the island. Their help was immeasurable and provided some comfort for these relatively inexperienced travelers! 
An absolutely amazing experience, and a most perfect home for those wanting to "get away from it all"!

Date of arrival   July 1, 2017

 

Beautiful Rental Home                                                      ★ ★ ★ ★ ★

We had an amazing trip to Tortola. Alfresco is an incredible house! We travel a lot and we have rented numerous houses over the years! I can honestly say Alfresco is on the top of our list!!! It reminded me of those doll houses that folded shut and you carried around as a child. Alfresco was the doll house unfolded with the most spectacular views! We usually go, go, go on vacation. We found ourselves being much more laid back and spending much more time in our rental home! 

Thank you so much for your patience and your wiliness to work with us. What a gift to spend a week in your home. Amazing!!!! We will definitely be back!

Date of arrival   April 17, 2017

 

Absolute Great Villa!!                                                        ★ ★ ★ ★ ★

Alfresco villa in Tortolla was absolutely beautiful!!! The view is outstanding and we enjoyed stunning sun rises and sun downs sometimes. The four of us (2 couples) all lives stressful lives and we were simply looking forward to beautiful solitude which we found in Alfresco. We stayed at the villa most of time reading in the sun, enjoying the views, napping, and being in the pool. The kitchen was perfect and we cooked in most nights and dined out several. We slept most nights in large bedrooms with the windows opened falling asleep listening to the ocean which was very peaceful. We would highly recommend this villa!!

Date of arrival   February 9, 2017

 

Wonderful Vacation!                                                          ★ ★ ★ ★ ★

My family of 6 recently spent 10 days at Alfresco and it was an amazing vacation! The location on the West End is the perfect place for peace and quiet but also very close to so many beaches and restaurants. Sam and JC were a huge help as we planned days trips and other activities. They even put up a Christmas tree for our family! We highly recommend this beautiful property! It is an adventure to drive to but that added a lot of fun and laughs in our family. We will be back!

Date of arrival    December 22, 2016

 

Return trip was just as fabulous as the first time!!!!!!       ★ ★ ★ ★ ★

Our second visit to Alfresco and we loved it so much last time we brought friends this time. They had an equally fantastic impression and experience. Allison and Sam were wonderful again, every detail catered to. They were wonderful with suggestions on activities and car rentals; everything was seemless. The location is wonderful, so peaceful and quiet but close to activity and ferry's when we wanted to venture out. The men had the tough job of running down the hill and grabbing some wraps for lunch, while the ladies waited for the delivery basking in the sun at the pool. Pretty rough life, wish we could have stayed longer. Snorkeling great in Smuggler's Cove, ferry close for our day trip to JVD, day on Virgin Gorda was wonderful. Heck, writing this review is hard sitting back in Kansas City......really wish I was back on the pool deck taking in the views!!! Thanks again Allison and Sam for all you did to make the stay what it was. See you next year (or sooner if we become independently wealthy and I don't have to work anymore!!! Ha.) 

Date of arrival     November 5, 2016

 

Fantastic Vacation                                                              ★ ★ ★ ★ ★

We highly recommend vacationing at Villa Alfresco! We travelled as a family of five - 2 adults and 3 teenagers and found the house the perfect setup to give everyone the space that they needed. Location was great. Easy access to ferries for day trips to Virgin Gorda and Jost Van Dyke made for truly exciting excursions. Dealt with Allison and Sharlene regarding all of the details and was very pleased with their attention to detail and timely responses to any questions. I would not hesitate to stay again!

Date of arrival     August 19, 2016

 

Week in Paradise                                                                ★ ★ ★ ★ ★

Alfresco is a fabulous villa. We stayed last week with our grown children and had an amazing week. I was first attracted to this villa because of the view which is gorgeous. After researching a little more about Tortola I decided that Alfresco would fit our needs perfectly. It is located in the West End which is convenient to Soapers Hole Marina and a 45 minute ferry ride from Charlotte -Amalie. The managers, Sam and Sharlene, made everything very seamless. Sharlene and Jerry, the rental car owner, met us and immediately we were on our way to the villa. We loved every aspect of the villa. The villa is well appointed ranging from the kitchen to the pool towels and noodles. Tortola is beautiful. We snorkeled at Smuggler's Cove and Brewer's Bay, hiked Sage Mountain, guys went fishing, and we all had a day snorkel trip with Island Surf and Sail. The restaurants were delicious...Bananakeet Cafe, Tropical Fusion, dCoal Pot, Sugar Mill, Fish and Lime Inn. Sharlene and Sam's recommendations were on target. We were very spoiled by the spectacular sunsets...not sure if we can ever find another accommodation that offers as much as Alfresco. We will be back! PS We had our little night watchman...every night outside the master a chickenhawk would roost under the eaves. It was such a treat to see him there every evening!

Date of arrival     June 16, 2016

 

Paradise is Villa Alfresco                                                     ★ ★ ★ ★ ★

My husband and I have been to Tortola a number of times and have always had a great time. Yet, this visit was perfect; we enjoyed every minute of our week at the villa. Overlooking views from every angle of the hillside villa were awesome. Sunsets were beautiful, Villa landscaping was immaculate. Very comfortable bedrooms/baths with choice of open air and/or air con. The owners have thought of everything to make the stay memorable. Thank you for sharing your dream with us.

Date of arrival     May 27, 2016

"Amazing time at Villa Alfresco"                                          ★ ★ ★ ★ ★

Alfresco is amazing. The pictures don't do it justice. We loved our home away from home. The architecture was spectacular, the views fantastic, gardens beautiful and we just couldn't seem to get out of the infinity pool. The layout provides beautiful common areas, while the bedrooms provided privacy. It was conveniently located to fantastic beaches like Smuggler's Cove and Cane Garden Bay. We appreciated all of the assistance the owners provided in securing airfare and our rental car. We would recommend flying into St. Thomas and taking the ferry to the West End. It was a beautiful way to begin our vacation.

Crownsville, MD             May 7, 2016 

 

"Alfresco- Stunning Luxury Villa With Amazing Views"       ★ ★ ★ ★ ★

Tortola Vacation                                                                                                                                                                                      

This villa has spectacular views and very comfortable accommodations. Tortola has perfect weather, beautiful beaches and lovely people. The roads and driving on the left take some getting used to. The caretakers were very nice and helpful. Allison the owner was awesome.

Date of arrival - January 2, 2016 (21 nights)

 

"Incredible home, fantastic views, perfect vacation!!"

Our incredible BVI's vacation at Alfresco started with the owner, Allison. Allison was amazing to work with, providing us vacation information even before we booked the home. She helped me find a much cheaper airfare to get to BVI, and once booked, she hooked me up with a rental car agency (Jerrys-highly recommended), sailing recommendation (we used Kuralu recommended from a friend of our and it was awesome)and dive shop recommendation (Blue Water Divers-highly recommended). Before we arrived, we received a list of restaurant recommendations, and a list of stores to secure provisions, including Riteway, who delivered our pre-ordered groceries to the house prior to our arrival.

The home could be difficult to find on your own, so Kia, Alfresco's caretaker, had us follow her to the house. The drive can be scary the first time or two as it is quite steep and curvy, but once you get the hang of it, its a breeze.

Upon arrival at the home, we were all totally amazed. The pictures online are beautiful, but you can't create the beauty of this home and view in pictures. It is simply breathtaking the first time you stand on the pool deck and look out towards Jost Van Dyke. The first sunset there is even more incredible. The house was perfect for 6 of us, including my wife, 2 teen daughters and their 2 friends. The 3 bedrooms rooms are decorated very nicely, and the beds are super comfortable. The shower in the master is awesome! There is AC in each bedroom, but not in the other living spaces, although we did not find the need for it. There was a breeze the entire time we were there. The kitchen was very well equipped for all of our needs, with very nice appliances if you want to do your own cooking. We ate breakfast in most days, and everything worked perfectly. We decided to buy some fresh lobster one day in Nanny Cay Marina (ask for Boss-live lobster!) and grilled on the deck. The BBQ worked great. We didn't watch much tv as there was just too much to do there, but the living room is very comfortable, with Directv, a nice stereo, and tons of books to read.

The patio was our favorite part of the house. The pool is spectacular, with an "infinity" edge appearance, sitting on the edge of the mountain, overlooking Jost. It is simply awesome. We spent a whole lot of time in the pool, including late into the night, with the disco lights blasting!

I HIGHLY recommend Alfresco and we can't wait to go back!!!

Michael - 20 June 2015 

 

"Incredible villa!"

Where do I begin? The description doesn't do this villa justice. It was even more amazing than described -- hard to believe but it's true. Our sons in their 20's have relocated due to their jobs but we make it a point every year to be together for a week. The laughs around the pool have created memories that will be forever imprinted in our brains. The scuba diving, snorkeling, boating, and fishing were fantastic. Allison's recommendations were spot on. Thanks so much for everything!

Mary - 14 June 2015

 

"Beautiful Property with Stunning Views"

"The property was perfect. It had everything that we could possibly need. It is a well thought out rental and made our stay both easy and relaxing.

The views were picture perfect. We enjoyed the ocean breeze and felt safe and secure throughout the trip.

Our location was perfect with easy access to beaches, restaurants, shops and ferries'

 

Favorite activity:  "Our favorite activity was relaxing at the pool on the rental property."

Erica (departure:  Apr 11, 2015)

 

"Awesome!"

Alfresco is awesome! We have been going to the outer islands in the Bahamas for the past few years and once we arrived at Alfresco we all looked at each other and said "why have we not been coming here all along!" We had an amazing time in Tortola and at Alfresco.

This is house was just perfect for us -2 adults and 3 boys (14, 11,& 9). We all enjoyed the pool from the time we woke up to late in the evenings- the pool lights are so fun! We enjoyed exploring the island during the mornings and then venturing back home in the afternoons to relax by the pool and enjoy the sunsets and views.

My kids never wanted to leave the house! We enjoyed all the wonderful restaurants, took some great day trips, and explored the beautiful islands- we can't wait to come back! The best Family vacation we have had!

Guest visit - 20 March 2015 (8 nights)

 

Feb 18, 2015

Once was great but twice was nicer
This was our second 2 week stay at the amazing villa Alfresco. From the extraordinary views at sun up, sun down or anything in between to the exquisitely decorated bedrooms, this villa is a hidden gem. We enjoyed coffee by the pool, lunch overlooking the bay and cocktails by the pool. On some days we ventured to the close by secluded beaches or over the mountains to Cane Garden Bay. All days were paradise. Sam and JP are wonderfully helpful in all aspects as managers. They recommended new restaurants and we enjoyed their suggestions. And they are very conscientious and thoughtful in wanting us to have a superior adventure. We look forward to returning for visit number 3 in 2016

 

Recommended for:

 

Age 55+,  Girls Getaway,  Sightseeing,  Families with Teenagers,  Romantic Getaway
"Alfresco is an absolute gem of a villa"
 Alfresco is an absolute gem of a villa. Tucked away in the lush hills overlooking the roaring surf of Long Bay, it affords a spectacular view of the Caribbean ocean and nearby islands. My wife and I, along with my sister-in-law and mother-in-law, spent a very comfortable and relaxing week at Alfresco during the week of Christmas and enjoyed everything about the place. It is a well-kept, roomy and beautifully laid out villa with lots of separate spaces to enjoy the sunny weather. Constant sea breezes cool the place so that we didn't need to use the air-conditioning once, even though the ambient temperature hovered in the mid-80's F. The villa has all the amenities—a well-equipped kitchen, comfortable beds, and lovely pool. It is a five minute drive from spectacular beaches and good restaurants. The vista from the large covered patio off of the master-bedroom is breath-taking. The property managers were helpful and courteous. My wife and I have been to Tortola over a dozen times but this is the nicest location we've stayed at yet. --Very highly recommended.
— David Clark and Tracy Wynne, 02 Jan 2015
"We would love to come back to the Alfresco"
"The Alfresco villa was incredible! The vacation villa was amazing. We would love to come back to the Alfresco villa next year." 
- Lynne (departure December 20, 2014) – 6 guests
"Alfresco was amazing"
My husband, me and 2 other couples rented Alfresco for a week and it was everything the pictures and reviews said it would be! The home is beautiful with private rooms for each couple and the views are incredible! The owners and property managers were there for us to answer questions, provide recommendations on restaurants and excursions which made it very personalized for us. This was our first time visiting BVI and renting Alfresco was one of the best decisions we've made. We've traveled a great DEAL
 around the Caribbean and this was top notch! Highly recommend using Dolphin Water Taxi to come from St. Thomas...they made it easy and fun. We also took 2 day trips with Island Surf and Sail and had our own captain on a motor boat. This gave us a chance to really see the islands in style. This was one of the best vacations we've had and Alfresco was a wonderful place to come home to each night to relax, take in the views and enjoy! Cheers!
| | |
| --- | --- |
| Reviewer location | Phoenix, AZ |
| Date of arrival | October 5, 2014 |
| Review rating | ★ ★ ★ ★ ★ 5 out of 5 |
"A definite return"
We came to celebrate our daughter's "Sweet 16" birthday. She wanted a family vacation with her Grandparents to remember such a significant birthday. The location of the Villa exceeded our expectations. The virtual tour does not give the views or the Villa justice. The comfort of home, the views were spectacular, the ability to eat at home and enjoy the stars and take a dip with the perfect lighting. So many beaches to travel to near and far. A definite return for our family.
JB Southampton, NJ, USA - 17 April 2014
terrific time
I have been meaning to drop you a note to let you know what a terrific time we had  at Alfresco!  It was truly perfect for all of us, a wonderful way to get away with our children before they all head off on their own.  Alfresco is perfectly designed for the environment and everything we needed was at our fingertips. 
While we did notice changes around the island since we were last there, the feel of Tortola remains unchanged.
So…thank you for the use of your beautiful home and thank you for all of your upfront advice.  We couldn't have had a better vacation!
We can't wait to get back – hopefully in less than 24 years!
Cheers, Lee - 2 June 2014
So much more to enjoy when you visit this island!
Just so you don't think this will be yet another review extoling the obvious virtues of this simply divine property (all of which is true!) there is so much more to enjoy when you visit this island! First and foremost, my husband and I have traveled to Tortola on many occasions in the past but they have all been on sailboats we chartered ourselves. As a result, we spent scant amounts of time in small seaside towns and didn't have the opportunity to travel inland. This time, because of the location of this simply gorgeous villa, we had need for a car. Of all the islands we have visited in our Caribbean travels (over the past 20 years) Tortola possibly has the most kind and friendly locals imaginable. (with the possible exception of Antigua and Anguilla) If you travel to this island and are fortunate enough to stay at this villa, in this location, be sure to eat at all of the nearby locally owned restaurants, you will not be disappointed! One other word of advice, do make sure, if you visit in early April, to bring insect repellant. Kudos to Allison for being a gracious hostess -- long may your Villa Alfresco flag wave! Debs
— Debs, 31 May 2014
Destination Wedding Extroidonaire
Guest

 

Funguy
Date of stay

 

03/22/14
Review Submitted

 

04/02/14
Alfresco- Spectacular view, Beautiful kitchen, comfortable bedrooms, wonderful pool, exceeded our expectations in every way!
Recommended for: Romantic getaway, age 55+, adventure seekers, families with teenagers, sightseeing, girls getaway.
Manager response: Delighted you all enjoyed Alfresco and in particular for the Wedding of your daughter held at Alfresco. We hoped you would have a memorable day and look forward to welcoming you and your family back once again. Thank you for choosing us and for the lovely comments!
Alfresco Wow!
We just completed a 5 week stay at Alfresco. Simply, wonderful. Simple, tasteful and very comfortable. You have developed a new jewel in Tortola! Thank you for making it available.— Mark and Mary, 19 Mar 2014
Alfresco - what an ideal spot for meeting up with friends!
Guest Bill

 

(Oxford)
Date of stay

 

10/01/13
Review Submitted

 

11/18/13
'Alfresco' is a beautiful brand new private villa, set high on a hillside with the most stunning sea view, overlooking the nearby island of Jost van Dyke, but the written description doesn't do justice to the view before you, across the ever-changing colour of the sea. Reading a book here takes quite a while, because you're constantly laying it down to check on the view! And there is always something to look at out there - whether a group of yachts sailing by, or maybe a five-masted schooner on a luxury cruise.
The accommodation and furnishings have had careful attention to detail to ensure that your stay is extremely relaxing and comfortable. There is a feeling of grace and space that surrounds you throughout the house and on the deck. There is ample seating indoors and outside, and the pool is always very tempting. If you absolutely have to check with the office, then the provision of WiFi in the house makes that very easy too! The bedrooms have full airconditioning, but except in very warm weather the ceiling fans and a screened open window are usually sufficient to allow you to fall asleep to the background sound of gentle waves upon the shore, and enjoy the perfect end to another day in Paradise!
Recommended for:
Families with teenagers, sightseeing, girls getaway, age 55+, adventure seekers, romantic getaway.
Manager response:
Thank you for your lovely comments, we are pleased you enjoyed your stay.
A Perfect Paradise
Guest

 

Andy                     (Swindon UK)
Date of stay

 

10/01/13
Review Submitted

 

10/19/13
We've returned to Alfresco with friends for a second visit.
This is a beautiful private villa with secluded & stunning views out over long bay. It is true the pictures do not do it justice. All the bedrooms & bathrooms are well laid out & luxurious with everything you could possibly want.  We spent many hours lazying in the infinity pool with cocktails in hand just chilling out & admiring the view. Sheer bliss! It was paradise on earth!
Alfresco had everything we needed, but when we wanted to eat out, there were many restaurants & bars serving local delicacies & exotic drinks.  Tortola has many lovely sun kissed beaches & there are also other islands to explore if you wish. We would highly recommend this villa & will be returning again soon.
Recommended for: Sightseeing, age 55+, romantic getaway, families with teenagers, girls getaway.
Manager response: We are glad that your second visit was just as perfect as your first and thank you for sharing your comments for other guests to see.
Great Escape
Guest

 

Vicki
Date of stay

 

06/29/13
Review Submitted

 

07/20/13
This is a gem of a place that was accurately described and everything we were looking for.  This place is bran new and immaculate.  The owners were extremely helpful with all of our questions and expectations.  Alfresco is very private and gave us the seclusion we were looking for.  The views from the property are outstanding.  It is very well located and did not take us to long to go to the beach or nearby restaurants.  There are many good places to eat nearby and the beach was powder white sand. This is a special place. You will not go wrong to stay at this wonderful place!!  We would love to come back soon.
Recommended for: Romantic getaway, families with teenagers, sightseeing, age 55+.
Manager response: Thank you so much for your review and kind words. We are really pleased that you had a wonderful vacation at Alfresco and look forward to your return. Best wishes.
We've just found paradise
Guest

 

CLP
Date of stay

 

07/05/13
Review Submitted

 

07/10/13
We have just returned from a 2 week holiday in Tortola to celebrate a 60th birthday.

Alfresco does what it says on the tin. It's a wonderful retreat with lots of glorious corners and areas outside for eating, drinking, swimming, reading, dozing or just chilling.

The view from the warm infinity pool seems to stretch to the horizon. Whether you're just bobbing around with cocktail in hand or completing a few lengths in the pool, and getting in presents no problem at all.

An elevated position affords Alfresco a wonderful view of Long Beach, a wide sea-scape and the outline of other British Virgin islands just waiting to be explored.

The master bedroom commands wonderful ocean views and has every luxury and indulgence you can only dream of, including a massive bed and a walk-in shower to die for. The other two bedrooms are just as luxurious and as well appointed.

The island of Tortola is strewn with excellent restaurants, all serving good local dishes and of course, excellent Caribbean cocktails!
Recommended for: Romantic getaway, sightseeing, age 55+, families with teenagers, girls getaway.
Manager response: We are delighted you enjoyed Alfresco and Tortola, always nice to hear that our guests had a good time.  Hope you will make a return visit in the not too distant future.  Thanks once again.
a perfect vacation
Date of stay

 

04/16/13
Review Submitted

 

05/10/13
We have just returned from a wonderful week in Tortola.  We stayed at Alfresco which is a new villa.  We were met at the airport by Sam the villa manager and escorted to Alfresco.  The house is beautiful with everything thought of.  From the deck the views are simply amazing.  This was the ideal holiday home to spend with family.  There were different places to relax but a very large deck where you can spend time as a family.  The kitchen had everything you need but to be honest we ate out every evening but did manage to use the barbeque at lunchtime.  Long Bay Beach is simply stunning, it was never busy, no vendors and the sand is just as you would expect in the Caribbean to be with the clearest water.  A truly memorable vacation we will definitely return to Alfresco when we can.  Many thanks.
Recommended for: Sightseeing, adventure seekers, age 55+, families with teenagers, romantic getaway, girls getaway.
Owner response: Thank you, glad you and your family had a great holiday at Alfresco.
In Love with Alfresco!
Guest

 

turqoiseh2o
Date of stay

 

03/21/13
Review Submitted

 

03/26/13

Our family just returned home from our week long stay in the villa Alfresco located above Long Bay on the beautiful island of Tortola. We have been to Tortola a number of times now and will definitely be returning again to Alfresco. This home is so tastefully and comfortably furnished, the views are simply spectacular, perfectly located within minutes of the best beaches and a variety of dining options.  The home is immaculate, the pool and outdoor living areas are ideal for spending time while enjoying ocean views and fresh breezes. Far and away the best home we have ever stayed in on Tortola!

Recommended for: Age 55+, romantic getaway, families with teenagers, families with young children, girls getaway.
Owner response: Thank you so much for your very nice comments regarding Alfresco.   It is so lovely to hear you had a fabulous stay at the property.  We are delighted you are planning a return visit and will welcome you once again to Alfresco.
We had a truly wonderful holiday
Date of stay

 

02/02/13
Review Submitted

 

03/20/13
Stayed at Alfresco in February for our 20th Anniversary, had a wonderful time lazing by the pool.The villa is beautiful, the pictures don't do it justice. The pool lights are fascinating, watching them change colour. Tortola was such a lovely island and we are planning to return to alfresco with friends in September. Thanks again for a memoarable stay.
Recommended for: Adventure seekers, age 55+, romantic getaway, families with teenagers, girls getaway, sightseeing.
Owner response: Many thanks for your review, it's always nice to hear when guests have a memorable stay.  Pleased you enjoyed the pool lighting, they add a really lovely atmosphere in the evening as you know, hope you enjoyed the sunsets from Alfresco.  We look forward to welcoming you back in September and thank you for a further booking this year.
Enquiries