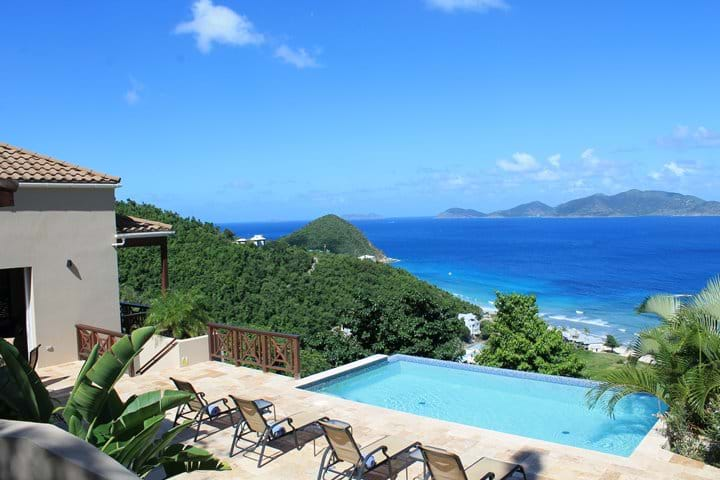 Alfresco Villa is a wonderful luxury secluded property within a private hillside estate overlooking the beautiful Long Bay Beach.  This Caribbean villa rental has 2 pavilions which offer spacious living & plenty of deck space for you to relax......
Details
Alfresco has been finished to a very high standard, with a swimming pool with virtual infinity edge offering a panoramic view of neighbouring islands Jost Van Dyke, Sandy Cay & onward to other Virgin Islands.  Alfresco is a fantastic vacation rental Caribbean property, for you to enjoy your stay.
You will enter the property through an imposing mahogany door into a mezzanine level which adjoins the living room with stunning views out to sea. Sweep down the curvaceous staircase into the living room & relax into one of the sumptuous sofas. There is a vast selection of channels on the 54" satellite TV, a good selection of DVDs can be watched on the DVD & the music system is right there too if you prefer some music to listen to, either using your own ipod/iphone or something from our collection.  The wonderful main deck is right outside where you can enjoy the fabulous vista, take a dip in the pool or simply enjoy Alfresco living with lunch around the table.  There is an umbrella for you to take in the breezes & enjoy the shade.
The mezzanine leads you to the Kitchen with its well-appointed high end units with granite counter-tops & stainless steel appliances.  Even the kitchen sink is a great place to look out at the amazing sea view.  Should you need any provisions for your arrival, just let us know & this can easily be arranged. The Dining Room beacons you from the kitchen with its majestic views of the islands. The glass & stone table is bespoke in this open air pavilion & gives a nice airy feeling to your dining experience. The dining area is also a great place at night which provides an elegant setting for dinner, whether you are cooking yourself or if you decide to bring a chef in.
From the Dining Room you have easy access down a curving opening arms staircase to the splendorous main deck, planters are filled with local palms, bird of paradise, heliconia, gingers & bougainvillea. Once at the pool, take a dip, enjoy the views & relax in the sun on the comfortable sun beds, there is an outdoor shower on the deck.  In the evening enjoy this area with a cocktail, watch the sun go down, marvel at the fabulous pool colour sequences (programme your personal colour favourites). You might want to rev it up a bit, put on some music & have some friends over you have met during your stay.  
All rooms have large sliding doors which disappear into the walls to open up the house, this offers open plan living & complete flexibility to move around Alfresco with ease. Plenty of books are available, if you don't finish one take it home, please leave one in its place so the next guest has some reading pleasure too. Board games are provided for an evening in.
The bedroom pavilion offers an upper level Master Suite. This has beautiful views of the islands & beyond from the balcony & spacious outdoor private deck. The bathroom is finished with a gorgeous stone Travertine & natural pebbles, the oversized shower offers you an invigorating experience. You can marvel at the wonderful wood ceiling as you look up from your king size bed handcrafted in reclaimed teak from Bali. You will be sleeping under Egyptian cotton percale which will give you a luxurious night's sleep.  If you stay in October, there is a wonderful Jacaranda tree full of cotton like flowers which cascades over the outdoor private terrace leading out from the bathroom.  There is also an extra single bed which can be used, should you wish to have one of the children in with you.
The second bedroom can be found at deck level & offers comfy easy access. You can choose either twins or a king size bed for this room depending on your needs.  Same Egyptian cotton for that perfect night's sleep.  Again this bathroom is finished in lovely stone Travertine & natural pebbles with beautifully bespoke mill work in the bathroom.  The private wrap around deck can be used as another area to relax & enjoy your stay. We have an extra single bed if this works better for a family stay or perhaps a 7th guest.
The third bedroom is very private & leads down from the main deck via steps to an outdoor space overlooking trees & landscape. You can enjoy the sea views & ocean sounds at night if you wish to. This bedroom has a low 4 poster Queen Bed with local art work to give a contemporary feel to this space.  Again luxury Egyptian cotton is featured throughout the property.  The bathroom is finished with stone Travertine and natural pebbles in your lovely spacious walk in shower. At Alfresco you can enjoy the privacy of this bedroom.  Ideal for 2 couples staying, so you have some privacy.
This property is easily accessible to Long Bay Beach if you want to drive or walk, up to you.  Smugglers Cove is around the corner (need to drive) unless you are fit!  There are local restaurants within driving distance of the property, on Long Bay Beach Tropical Fusion is the nearest restaurant, Sebastian's is just over the hill, you have The Sugar Mill restaurant just on from that & other local eateries, D'Coalpot restaurant is in Carrot Bay which is a fabulous place to eat locally.  Soper's Hole Marina is just 6 minutes ride away, and there's a local restaurant there where you can watch the sailors coming in after a day at sea.   You can also look around the marina & see all the larger yacht's moored up or just stopping by for some supplies. A nice place to relax.
Alfresco overlooks Long Bay Beach, neighbouring islands Jost Van Dyke & Sandy Cay within this private hillside estate.  The villa offers easy access to explore the beaches, restaurants, shops & bars.  Alfresco is one of the best of BVI Vacation Villas.
Facilities include:-
Close to Long Bay Beach

3 Air Conditioned Bedrooms, Master King, 2nd bedroom (Kings or Twins), 3rd bedroom Queen 

Extra single bed for 7th guest (upon request)

Linens and Beach towels

Full Kitchen

Dishwasher

Satellite/Cable TV

Wi-Fi

BBQ

In/Outdoor dining
Housekeeping provided. 
Check in is 3pm and Check out is a 11am

7 Guests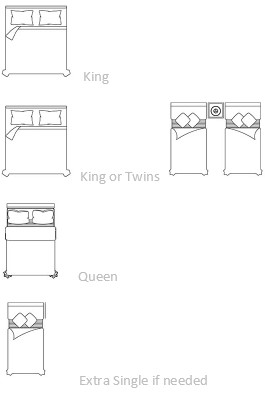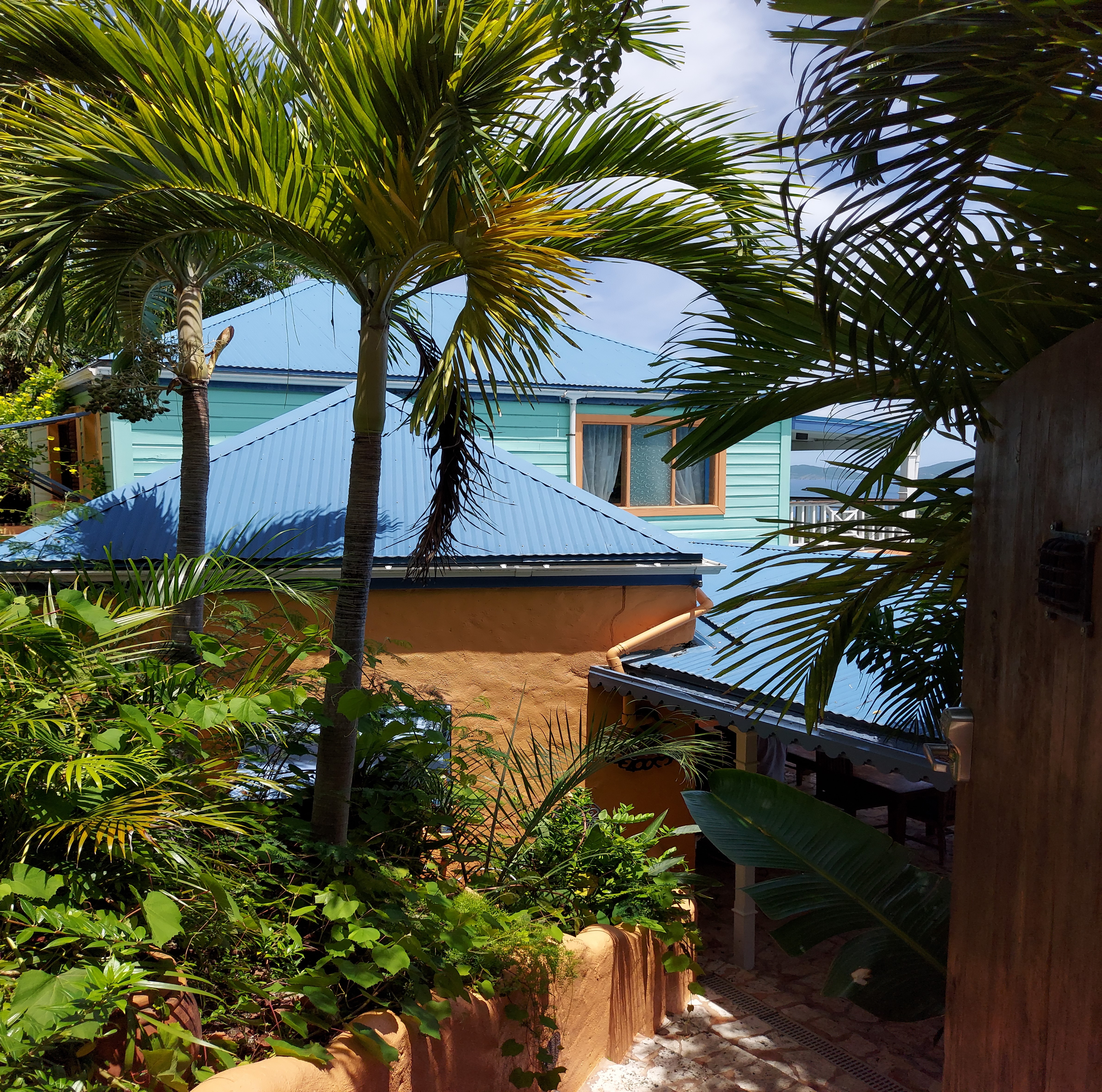 Rates
Quoted Currency: American $
Rental rates are for the entire property.
| Description | From | To | Weekly | Week Night | Minimum Stay |
| --- | --- | --- | --- | --- | --- |
| Winter 1 - 4 Guests | 04 Jan 23 | 21 Apr 23 | $5180 | $740 | 7 Nights |
| Winter 5 - 6 Guests | 04 Jan 23 | 21 Apr 23 | $6020 | $860 | 7 Nights |
| Summer 1 - 2 Guests | 22 Apr 23 | 31 Jul 23 | $3780 | $540 | 5 Nights |
| Summer 3 - 4 Guests | 22 Apr 23 | 31 Jul 23 | $4480 | $640 | 5 Nights |
| Summer 5 - 6 Guests | 22 Apr 23 | 31 Jul 23 | $4865 | $695 | 5 Nights |
| Low Season 1 - 2 Guests | 01 Aug 23 | 31 Oct 23 | $3150 | $450 | 5 Nights |
| Low Season 3 - 4 Guests | 01 Aug 23 | 31 Oct 23 | $3325 | $475 | 5 Nights |
| Low Season 5 - 6 Guests | 01 Aug 23 | 31 Oct 23 | $3500 | $500 | 5 Nights |
| Fall 1 - 2 Guests | 01 Nov 23 | 16 Dec 23 | $3780 | $540 | 5 Nights |
| Fall 3 - 4 Guests | 01 Nov 23 | 16 Dec 23 | $4480 | $640 | 5 Nights |
| Fall 5 - 6 Guests | 01 Nov 23 | 16 Dec 23 | $4865 | $695 | 5 Nights |
| Christmas/New Year 1 - 6 Guests | 17 Dec 23 | 05 Jan 24 | $7700 | $1100 | 10 Nights |
| Winter 1 - 4 Guests | 06 Jan 24 | 26 Apr 24 | $5180 | $740 | 7 Nights |
| Winter 5 - 6 Guests | 06 Jan 24 | 26 Apr 24 | $6020 | $860 | 7 Nights |
10% Government Hotel Tax (not included)
3% Service Fee(not included)
$300 Damage Deposit(refundable)
Availability
Guestbook
Our expectations were exceeded
Booking Alfresco Villa was fantastic and easy, I was really satisfied with the help given during the booking process.  The villa is a 5 star property, clean comfortable, well equipped & attractive.  The facilities were wonderful, everything was great.  The maid was great too!  Our expectations were exceeded.  We hired a jeep rental, used Island Time for a day sail & also for the water taxi from St Thomas.  We would definitely recommend Alfresco & in fact already have!  Everything was perfect.
Date of arrival March 2023 Donna J
Perfect location/incredible views
Loved our stay at alfresco. Location was great…close to wonderful restaurants on the water and smugglers cove. House is as great as advertised. Property manager took good care of us too. Eric, the cab driver that Sharlene connected us with was fantastic. Can't wait for our next trip back to alfresco!
Date of arrival June 2022 Leland M
Our week of paradise
The house is perfectly situated on the island. The managers are wonderful with suggestions. They sent links to groceries and met them when delivered to sort out refrigerated items. Pinky met us at West End and led us to our week of paradise. She even made roti for our first evening there. The pool was used after our daily ventures on the island. While the roads have no names, you will easily find your way around the island. The views are everything you expect and more.
Date of arrival June 2022 Susan
House is amazing
Thank you for the wonderful vacation.  The house is amazing and the views while dining were exceptional.  Your patience in answering all my questions was greatly appreciated.  The best part was the negative Covid test requirement was dropped while we were there.  It gave us an extra day with out worry of scheduling a test.  The kitchen is well stocked with pots and pans. The pool is an added bonus that was used daily.
Date of arrival 10 June 2022 The Mayberry's
Gorgeous views, great experience
From the moment I inquired about this property I rec'd prompt detailed responses. Great experience. Sharlene and team arranged for a rental car (Jerry's) pick up at the to meet outside West End, customs, provided provision company names and all provisions were put away when we arrived, arranged for a surprise Happy Anniversary greeting with an absolutely beautiful floral arrangement with balloons and champagne. They were a pleasure to work with. I would also love to give a shout out to Louise for keeping the home spotless and doing our laundry. We would certainly stay again and will miss sunset from the pool. Thank you for sharing your home.
Date of arrival 14 May 2022 Sue D
Exceptional Venue!
We just finished a 10 day stay at Alfresco after having first experienced this exceptional venue during a 22 day visit in 2019. Given the multitude of quality villas available on Tortola, the fact of our re-booking alone could suffice for an endorsement. For the benefit of potential first time visitors to this place, I'll expand further. 

Prior to Alfresco, we've had six previous visits to the BVI - five of those were land-based in the central and eastern portions of Tortola and one was aboard a motor yacht charter. Quite simply, this villa is by far the best overall situated and most spacious stay we've ever had. We heartily endorse other reviewers' comments at the risk of decreasing its future availability for our next visit. We've found the 300' elevation off the northwest coast of Tortola to be serenely therapeutic: catching ocean breezes and gazing upon the mesmerizing views of the Caribbean and Jost van Dyke while savoring morning coffee on that expansive pool deck. Sunset dining is a major plus: whether experienced with home-cooked meals - or by dining out at any of the excellent close proximity venues extending from Long Bay to Cane Garden Bay on the north coast. The north coast in general is more tranquil and less traveled than the southern portions of the island leading to Road Town.

Especially for newbies to the BVI, owner Allison and on-island manager Sam provide unparalleled assistance with all travel and stay-related questions. Their guidance surrounding the complexities of COVID-related entry requirements was priceless.  With much gratitude for the Alfresco experience.
Date of arrival March 2022 Geof & Gudrun 
Just as we remembered
Everything at the house was just as we remembered it. It just has a beautiful layout. We love the fact that the house sort of embraces the pool, and unlike other villas I've looked at online, this one seems unusual in the way it surrounds the pool vertically as well - it is so thoughtfully designed in that way. You have plenty of space but are never really very far away from the others.
We took the 6pm ferry to JVD for New Year's Eve.   We rented a small powerboat for a few days, we went to JVD, around Tortola and up to the Baths.  Some good friends of ours were just arriving on the island as we were leaving - they will be sailing this week.
I can easily imagine that we'll be back in touch with you about renting Alfresco again. 
Date of arrival December 23 2021 Tom & Robine 
Gazing out at the magnificent view!
Wow! What a whirlwind the past two days have been-as you know we left the villa on Saturday morning…we spent every second we could gazing out at the magnificent view that your fantastic home provides. We gazed at that view for days! We hardly left the house until the very end of our trip.  We spent a day at the Baths where we were nearly the only people there, unbelievable. Then a wonderful day with Debs around all the outer islands where we were able to pay our final respects to Guys sister on the shore of Peter Island. The entire trip was fantastic. 
Date of arrival September 29 Sept  2021 - Guy & Eileen 
One of the most beautiful villas we have ever stayed in!
Probably one of the most beautiful villas we have ever stayed in, privately located in the hills overlooking the beautiful ocean.

We were three couples and the accommodation worked out perfectly.  All bedrooms are luxuriously appointed with amazing shower areas finished to an exceptionally high standard.

Lots of space to relax and enjoy the most stunning views of Long Bay from the pool and terrace with exquisite sunsets from the BBQ area in the evening.

Would love to return. Sam, JC and Allison were a joy from booking to  accommodating us at the villa. 

Alfresco is a delight, pure paradise.
Date of arrival Sept 3 2021 Julie Christian
Everything about Alfresco Villa was lovely!
Everything about Alfresco Villa was lovely. Sam, the property manager made the trip exceptional. We traveled during the strict covid measures, and she helped us to navigate the fiasco that the BVI created. The villa itself was a welcome respite from that stress. Well stocked kitchen meant that we could look after ourselves perfectly during enforced quarantine. All her contacts were kind and helpful and made our trip amazing.
I've never had the luxury to stay somewhere so nice. I do hope I have the chance again.
Date of arrival May 9 2021 Susie T
Perfect spaces to relax 
We enjoyed another wonderful winter stay at Al Fresco, staying a month over late January and most of February 2021. The house and property are beautiful and very comfortable, with the perfect spaces to relax, remote work and practice yoga. Al Fresco's location on the quiet and peaceful West End of Tortola makes for a great getaway. Al Fresco overlooks Long Bay beach, which can be reached with a short walk or drive, where you are often the only one on the beach for hours. The area is also home to several of the BVI's best winter surf breaks, a reasonably well kept secret that keeps us coming back.
Allison, as well as Sam and JC at Villas of Tortola and the staff that maintain Al Fresco are wonderful and a pleasure to deal with.
Can't wait to return!
Date of arrival January 24 2021 John F
Just Fabulous
Our stay at Alfresco in June 2021 was just fabulous. We loved the layout of the home and took full advantage of the outdoor spaces!  The view is beautiful. We enjoyed walking to Long Bay and over to Smuggler's Cove; although the hike back to the villa is challenging. Sam and Louise made our stay top notch. Allison and Sam, thanks for your referrals to Kuralu, Eric (taxi service) and everyone else you suggested from grocery stores to liquor stores to restaurants.

We are looking forward to returning in the near future!

Thanks so much for sharing your knowledge and lovely home with us!
Date of arrival June 15, 2021  Claire M
So Perfect! 
Such a stunning location! Our 2nd time at Alfresco and they did not disappoint. A spotless, beautifully maintained home. This home will always be our first choice! Thank you for a warm welcome with great service. We will be back! The Haggerty's
Date of arrival March 17, 2020   Laurie H
Perfect! 
I cant say enough about this house, it was perfect. The house is very well equiped and very nice. The staff at Villa's of Tortola could not be more helpful and nice. The house is in a perfect location.
Date of arrival March 8, 2020  David G
Even better than we expected 
Great property. Super layout. Had some shower issues due to sediment in head that I simply fixed. Otherwise no problems whatsoever. Be prepared for driving the hills of Tortola!
Date of arrival February 8, 2020
Dream land 
Amazing home/property in a picturesque setting. Booking process and communication with property managers was smooth as they were on top of their game. Highly recommend.
Date of arrival Dec 14, 2019  James K
Best ever! Loved Louise. Keep it just the way it is!!! 
Easy breezy! 
Date of arrival Dec 7, 2019   Kathy B
Beautiful views; beautiful home! 
We had an excellent stay at Alfresco in Dec 2019. The views from this villa are exceptional. It is comfortably and thoughtfully appointed throughout. We enjoyed making our own meals most of the time and dining out occasionally. Smugglers Cove and Long Bay beach are the closest (and most beautiful) beaches on Tortola! You will truly enjoy your stay here. Allison (and her staff) are super quick to respond if you need anything or have any questions. Highly recommend Alfresco!!!
Date of arrival Nov 30, 2019   Denise H
Unbelievable Villa 
We had another wonderful stay at Alfresco. It is such a unbelievable villa. Made it back home late last night. Thanks to everyone involved to help make this another memorable vacation.  Regards, Jim
Date of arrival Sep 21, 2019 
Lovely week  
Exactly as pictures show, large bedrooms with lovely bathrooms. Delightful pool. The drive up to the house is steep and curvy, but this is like most of the island roads. Close to lovely beaches and great restaurants- loved Da Coal Pot (everything so good including desserts) and Bananakeet (road is terrifying at night though).
The only con was that some window screens are not fit well, so mosquitos come in because there is no glass in the windows :(
Date of arrival July 15, 2019   Susan C
Glad we chose Alfresco  
Alfresco turned out to be great choice for us. Sometimes when you travel somewhere for the first time you look around and decide on the next trip you would make some different choices. This was not the case for us. This house was the right house in the right location. There is not better area of Tortola to be in, in my opinion. The house was awesome in every way. We had three couples and this three bedroom layout was great. The outdoor area and pool were great and the view from those areas and every bedroom and porch off of each were great. Thank you Sharlene for showing us how to get there. We will be back.
Date of arrival July 4, 2019  Griff  Orange, Texas
Paradise 
The layout of this villa is so well thought out. Would stay there again in a heartbeat!
Date of arrival June 4, 2019  Tyra D.
Best Tropical Vacation! 
Alfresco was the best tropical vacation villa we've ever experienced - with such large welcoming common areas, spacious bedrooms, and ample private space options for quiet personal time. We loved the north coast, western Tortola location - with sufficient elevation to catch the breezes and giving us a post card view of Jost Van Dyke. Sam's colleague PattyAnn was available as needed for miscellaneous questions and advice - a superb service we've never experienced with prior villa rentals. All three sets of our guests luxuriated in and were wowed by the accommodations - making it extra gratifying to be their hosts. The outdoor shower was a hit for de-salting after a day in the ocean. Your kitchen served us well by easily accommodating our needs for meal preparation. The rental SUV through Jerry's ran flawlessly - with vehicle availability at the airport expediting our arrival to the villa. For anyone desiring either bareboat or crewed powerboat rental, I can heartily recommend Island Time Powerboat Rentals at Nanny Cay - which we utilized nine times over our 22 day stay.  A triple thumbs up experience. With any luck, we'll be back to book Alfresco in the not too distant future.  With best wishes for you and gratitude for your delightful venue, Geof
Date of arrival March 29, 2019  Geof & Family
Home Away from Home! 
Our island "home away from home"! We were last there Feb. 23 - March 16, 2019. This was our fourth trip back to Alfresco, our seventh to Tortola. While there were lots of changes on the island due to Hurricane Irma, we found Al Fresco to be just as welcoming and lovely as ever! The pool, the vista over to Jost Van Dyke and the hillside down to Long Bay still takes our breath away. This is truly a perfect place to relax and decompress. "Must try" restaurants include The Bananakeet, D'Coal Pot and Quito's. Thanks to Allison, Neil, Sam, JC, Sharlene (who greeted us) and Louise (our housekeeper). They are a great team that truly enhance the island experience. Also, a car rental from Jerry's is a must to get into all the nooks and crannies of the island! Can't wait for stay #5 at Alfresco! 
Date of arrival February 23, 2019 Cheryl Urban
Amazing experience with our family! 
We took our two kids to Alfresco Villa for a family winter vacation. The villa is beautiful, the views are breathtaking and the owner/ property manager give great instruction and advise on anything you may need. I even asked where to get bug spray and beach toys for my 3 year old, both items showed up at our door the same day! We would denfitly stay here again. It was a real experience !!!
Date of arrival January 20, 2019 - Ray & Melanie
We were sad to leave! 
Thank you so much, we had a wonderful time!  You have a great villa, I so miss those views we woke up to every morning!  We were sad to leave!  Merry Christmas!
Date of arrival December 1, 2018 - Ron & Debi
Fantastic View 
We had a great time in Alfresco beautiful villa and fantastic view.  Hope to be back in the future.
Date of arrival November 16, 2018 - Sachs Family
Beautiful property 
Another visit to Alfresco, Sam was great & her staff!  We love the villa, I'm only sorry I had to leave !!!
Date of arrival November 8, 2018 - Brian
Spectacular property 
Alfresco is a spectacular property. It is everything you can imagine plus more. The views are stunning, the pool fabulous and everything about the house was wonderful. The layout of the house is well thought out and is terrific for reading in a private getaway or getting the group together in the central areas of the house. The assistance and advice that Allison gave prior to our arrival was second to none and the help we received from members of the staff was extremely helpful. We are already in discussions about dates for our next stay at Alfresco Villa.—
Date of arrival September 15, 2018   Jim & Cindy 
We loved Alfresco! 
We loved Alfresco! It was so accommodating for what we needed. The view was phenomenal and the pool was perfect! Everyone on the island was so attentive and the management staff you have there worked well with us as we arrived later than expected due to flights being delayed. We will be staying again for sure! 
Date of arrival May 31, 2018 
A beautiful place to be able to call home for a week! 
We had a wonderful stay on Tortola in Alfresco. The house is gorgeous, with outdoor spaces abounding - plenty of room to gather as a family (5, with 3 older children) and plenty of space, indoor and out, to read to find privacy to read or nap or enjoy the view. Luxuriating in the pool looking out over the ocean to Jost Van Dyke is amazing, and having everything so well laid out and appointed around you made our week a dream. The island itself is an adventure to discover. The guidebook in the house is very helpful and we found our way to many different beaches on the North Side where we snorkeled and relaxed, climbed Sage Mountain, rented a boat for the day, and enjoyed dinners out as well as in. The owners will recommend 4W drive and it is very handy to have - we had some rain showers and it makes you feel nice and secure to have 4W drive under you. Making the arrangements couldn't have been easier, and everyone involved was extremely helpful and responsive to our questions in preparation for going and while we were there. Thank you for helping us have a wonderful family vacation!
Enquiries