Tortola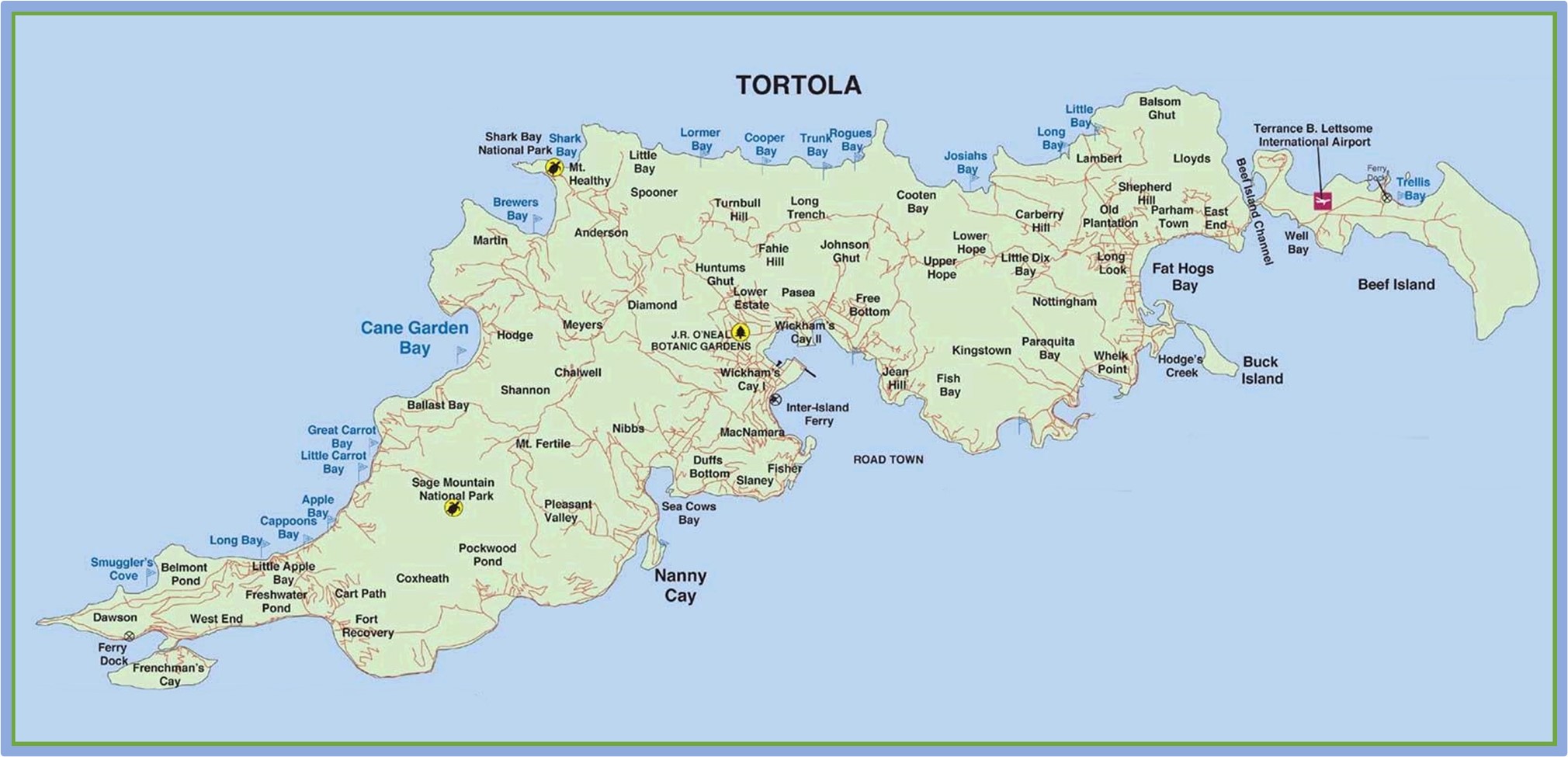 Has an "unhurried pace of life" and will allow you to relax and take time out from a very busy schedule or enjoy a welcomed family vacation. Virgin Gorda has a vibe all its own with the beaches being the focal point. Islanders are very 'laid back'! They just take each day as it comes, no rush to do anything, "Island Time" is what you will find.  You'll not find Tortola heavily populated and Virgin Gorda even less so, with around 28,000 residents living in the BVI.
The Amerindians from South America came to the Windward and Leeward Islands in 900BC and stayed in the area over 1,000 years.  Christopher Columbus in 1493 arrived on the islands during his travels, they were subsequently left for over 100 years whilst he sailed to Puerto Rico to find his fame and fortune.
During the 17th and 18th century, pirates arrived in the BVI to hoard their treasures and continue their quest as 'Pirates at Sea'.  In the 17th century the Europeans arrived, the Spanish in Virgin Gorda and Dutch in Tortola.  Over the next century the British, Spanish, French and Dutch all wanted control of the BVI.
When the British took control of the islands they built plantations to grow sugar and cotton for export.  After the emancipation of slavery in 1834 and a severe hurricane hitting the BVI, plantations fell by the wayside.  The former slaves turned the land into farm land and started fishing for their living.  Tourist started to arrive in the BVI when Laurence Rockefeller built 'Little Dix Bay' on Virgin Gorda, the airport at Beef Island was then opened in 1968 and the islands started to become the yachting industry it is today.
Road Town is the capital and U.S. Dollar is the local currency. The islands lie east of Puerto Rico and adjacent to the U.S. Virgin Islands.  They're essentially mountainous with white sand beaches rising up to 1,780 feet at 'Mount Sage' at the high point.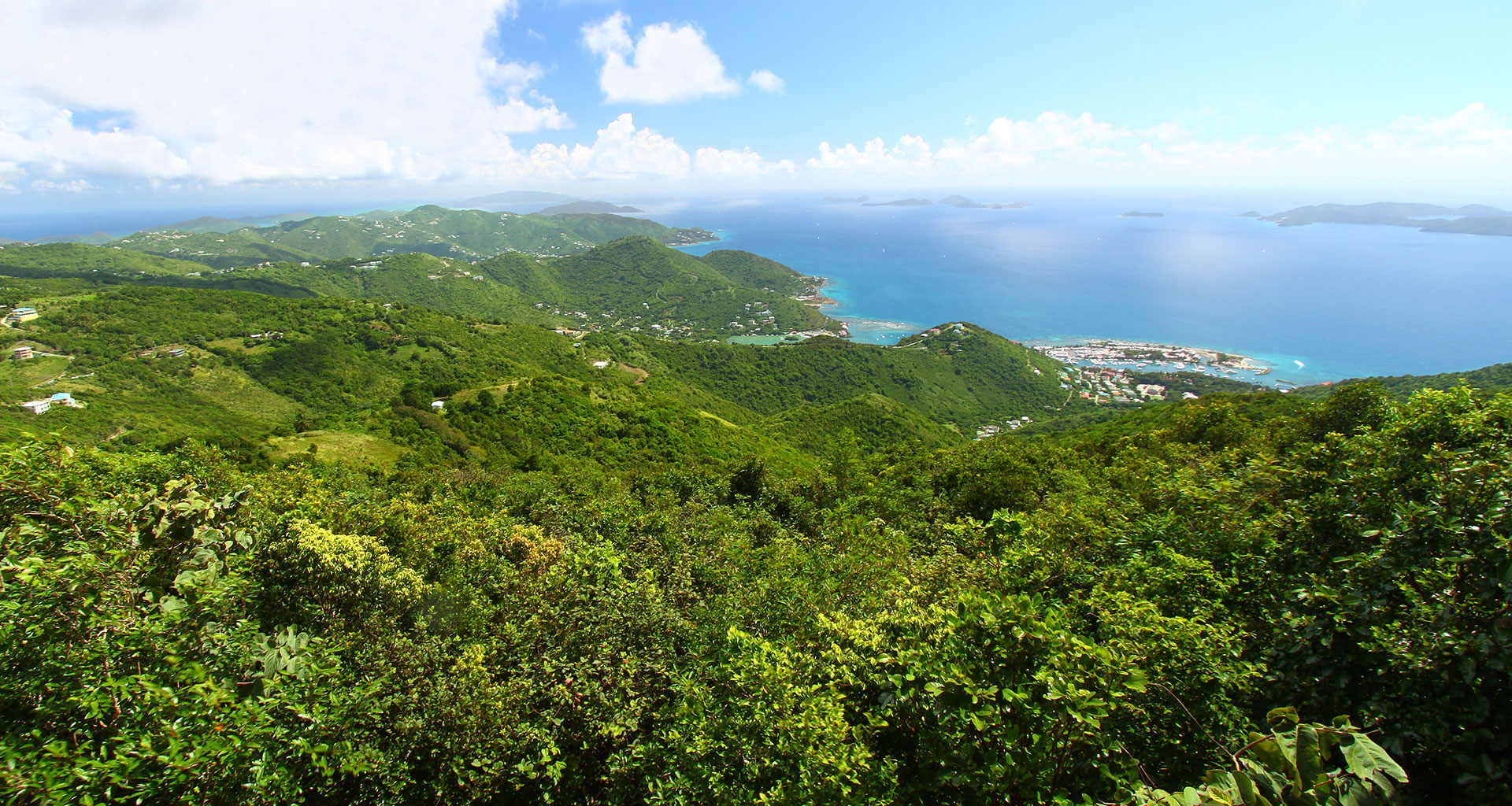 Beaches
Smugglers Cove
Smuggler's Cove Beach is a well-kept secret of Tortola in the British Virgin Islands. This secluded spot provides a beautiful white sand beach, palm tree-lined shores, warm turquoise waters.  Just 10 minutes drive from Long Bay area, lots of lovely Seagrapes along the beachline & Almond trees for plenty of shade.  The water here is calm for swimming all year round & for snorkelling, you can also buy drinks from the beach vendors. 
Long Bay
A lovely mile long stretch of pure white sand, ideal for early morning & late afternoon strolls.  The beach is good at the western end as there are not many rocks & offers good bathing for most of the year.  Nestled on the picturesque shore of Long Bay Beach, relax in nature & experience the laidback luxury of the Caribbean at this scenic hideaway.  There are a couple of restaurants right on the beach, so enjoy something to eat or sip a cool drink & the cocktail bar.
Apple Bay
This is the surfing beach in wintertime, lovely to watch the Pelicans fish as well!  If you live to surf or just love the beach, you will enjoy this location.  Apple Bay usually delivers waves during the 'Caribbean winter' from October through April.  
Cane Garden Bay
This is a beautiful curved bay with wonderfully calm waters, ideal for small children & a great place just to hang out.  This picturesque bay offers a sandy beach, restaurants, bars, rental chairs & umbrellas.  The beach is a laid-back place to put down your towel. It's the closest beach to Road Town & one of the BVI's best-known anchorages.   Try to avoid this beach on a cruise ship day as it does get extremely busy! 
Brewers Bay
This is a very quiet beach with the remains of a Rum Distillery on the roadside.  Good for swimming for most of the year, but can get a little rough during the winter months.  A gorgeous bay, the snorkelling is absolutely spectacular!  Brewers Bay is one of Tortola's true hidden gems, ideal for travellers who want to enjoy a peaceful & quiet day at the beach.  The Pelicans fish all day long, they just carry on around you doing their business, great office for them! A bar at the end of the beach.
Josiah's Bay
This is on the north shore & has a dramatic pure white sand beach, good for sunbathing & excellent during the summer months as it is quite shallow and calm.  In the winter however, it is rough & has an undertow.  There are bars that serve drinks.  Good for surfing during winter, many say it offers Tortola's best surfing, a surfing paradise!  Josiah's Bay is an undeveloped gem at the foot of a valley on the north shore, very dramatic beach & well worth a visit.  
Lambert Beach
This beach is palm fringed, wide & sandy.  The best time to visit is in the summer months as there is a bit of an undertow in winter.   It is also home to the Lambert Beach Resort where many trees & palms which make is a true tropical paradise!  Lambert Bay is a great beach in the northeast of Tortola, entry into the water is smooth so ideal if you like to just get your feet wet!
Little Bay
This is my favourite little cove, quite an adventure getting to it as you need a 4 x 4 as it's down a very rough track.  It is well worth the journey though as you will find that you will be on your own. During the summer months this is spectacular but a  little rough from November - March with an undertow sometimes.  Little Bay is  located in an urban area with very picturesque views.  The crystal turquoise water & pure golden fine sand is simply the best! It's almost deserted, even during the high season, no amenities, only nature.
Beef Island
Long Bay
This is another Long Bay with its lovely curving beach, good for swimming most of the year.   There is a salt pond nearby so be careful not to disturb the nesting terns.  This truly splendid beach located right beside the airport on Beef Island offers terrific swimming in the incomparable, Caribbean blue waters. The water conditions at Long Bay are almost always serene, ideal for the whole family. There is a pretty quick drop off from shallow water, so non swimmers & small children should probably wear flotation devices & be careful.
Trellis Bay
This is a lovely, family friendly beach with several restaurants. On Full Moon Nights the party starts at 4:30 PM with a live DJ, Local Band, bayside moko jumbies (stilt dancers), fire dancers & a great food  such as Jerk Pork, Jerk Chicken, BBQ Chicken, BBQ Ribs, Grill Fish, Grilled Lobster or Steak.  You take the ferry here for Marina Cay(nice place for lunch).  Trellis Bay Market, located in the heart of Trellis Bay, British Virgin Islands is the home for all your bareboat provisioning needs while visiting the B.V.I.   There is a Mini Market situated between coconut palms & seagrape trees.