Virgin Gorda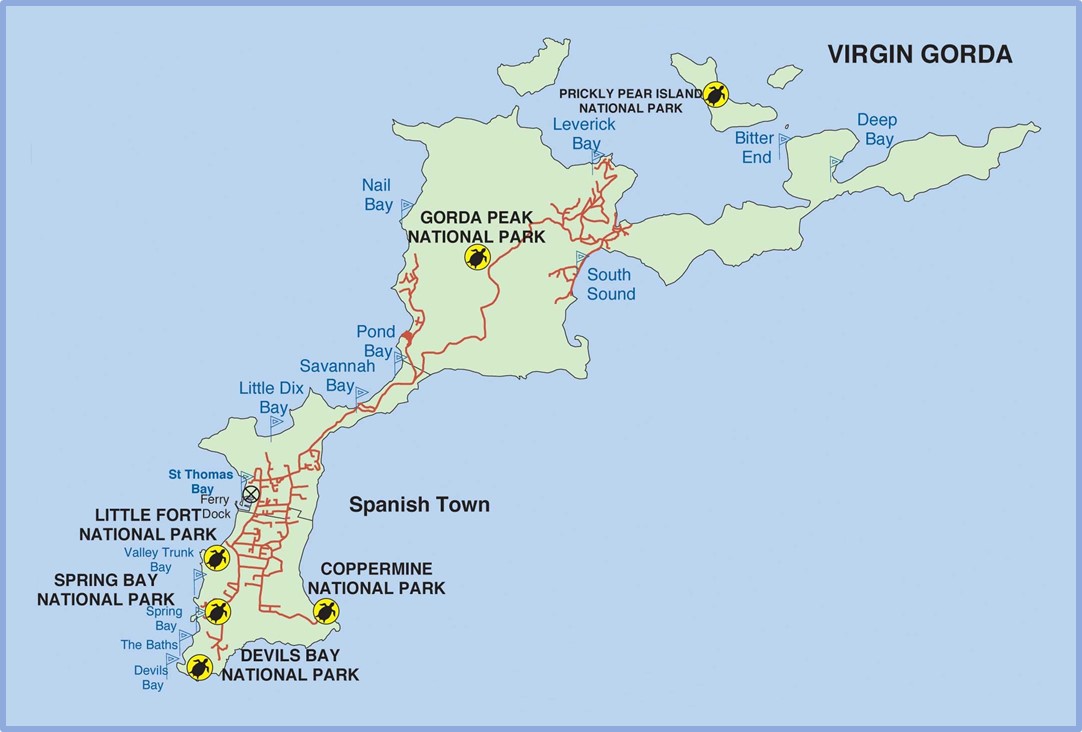 Or the "Fat Virgin" refers to a protruding mountain, noted by Columbus, on the second largest of the British Virgin Islands. It is only 10 miles long and 2 miles wide (8.5 square miles) with a population of approximately 2,500 persons.
Virgin Gorda is known for its yacht clubs, quiet coves, safe anchorages for bareboats (boats rented without the crew). It is linked to the other islands by a small airport & regular ferry services. The northern half of the island is mountainous with a good-sized peak of some 1,500 feet (Gorda Peak National Park - the highest point on the island), while the southern half is flat & scattered with giant sized boulders.
The BVI's most famous natural attraction, The Baths - a series of spectacular pools & grottoes formed by a combination of giant sized boulders - is located in Virgin Gorda. There are some 20 beaches on Virgin Gorda, including the beautiful Devil's Bay (a national park given by the Rockefellers to the BVI government in the 60's), Spring Bay, Trunk Bay, Long Bay, Mahoe Bay & Savannah Bay.
Little Fort National Park, located south of the Yacht Harbour, is the site of a Spanish fort, the walls of which are still partially intact. This 36-acre area also functions as a wildlife sanctuary. There is also the abandoned Copper Mine (mined by Cornish miners between 1838 and 1867, perhaps even earlier by the Spanish) on the southeast tip of the island where a boiler stack & other 19th century stone buildings can still be observed.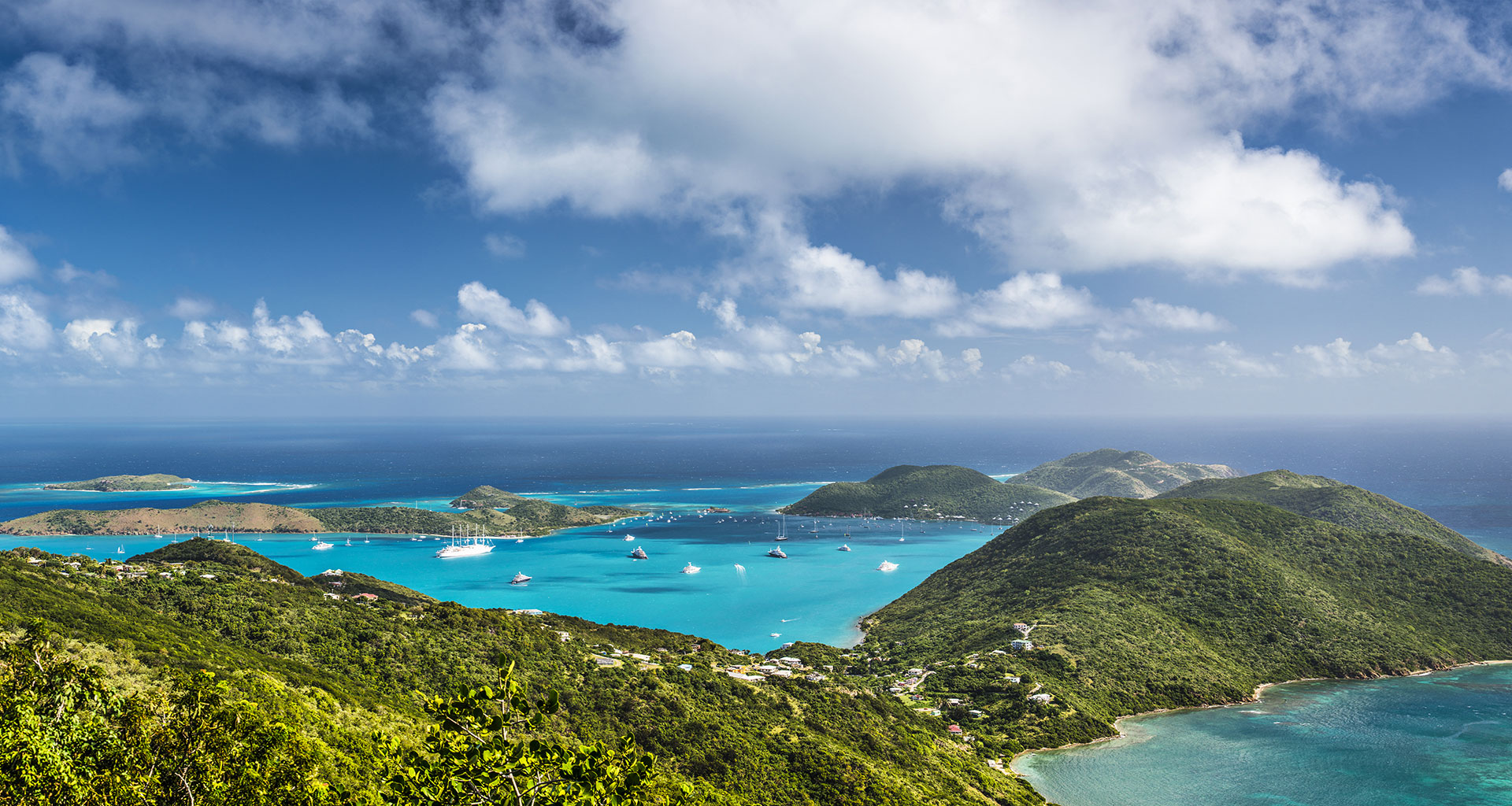 Beaches
Devils Bay
Just to the west of The Baths, it can be reached by a meandering path from the parking lot or from The Baths.  At the southwestern tip of Virgin Gorda the picturesque Devil's Bay is an absolute delight to get to.  This horseshoe shaped bay is a welcome sight at the end of the 15-minute hike through dry scrub vegetation & boulders from the car park at the top of The Baths.  A second trail at the eastern end leads visitors to The Baths, through massive granite boulders, where hikers should be prepared to crawl, climb ladders & wade through water.  Caution must be used at all times to avoid slipping or falling.  Swimming and snorkelling or just relaxing under the natural shade , Devil's Bay is one of Virgin Gorda's most beautiful beaches. 
Leverick Bay 
Home of The Leverick Bay Resort & Marina.  The bay is located on the shores of a magnificent large blue lagoon known as North Sound, it is one of the most beautiful locations in the BVI.  The pristine waters & surrounding beauty of views of North Sound, Mosquito Island & the Caribbean Sea make a lovely place to hang out for a few hours.  The Restaurant at Leverick Bay offers a perfect evening dining experience with a unique mix of elegance, excellent local seafood specialties, the best house cut beef & fresh Anegada lobster in the British Virgin Islands.  Enjoy breezy ocean views from the Caribbean style open terrace & complement your meal with a sophisticated wine list. 
Little Dix Bay
Originally founded by conservationist Laurance Rockefeller over half a century ago in 1964 & long regarded as one of the world's greatest getaways, the iconic resort of the Rosewood Little Dix Bay has been completely revived & redesigned while staying true to its identity.  A leading example of ecotourism!  This hotel is set across 500 acres of pristine private beachfront & breathtaking flora & fauna, the re-imagined resort provides an unparalleled island escape with expertly appointed accommodations, inspired amenities, dynamic dining outlets & bespoke services.  Plenty of things to do in the area, snorkelling around the shallow waters with a vast array of marine life, flying through the trees on a canopy tour, turtle-tagging at Rosewood Little Dix Bay, there are plenty of unique experiences & excitement in the BVI's for every member of the family.
Mahoe Bay
A beautiful curved bay with calm water & a double reef which is perfect for snorkelling.  Its also home to a selection of beautiful villas of which some are right on the beach. Please see our website for a large selection of these villas.  Remote, white sandy beach in a picturesque cove with blue water & access to watersports.  Powdery white sand, crystal clear water, easily accessible reef teeming with colour & fish.  Mahoe Bay is a popular beach on the west coast of Virgin Gorda.   A beautiful & scenic place, no waves, just wonderful ocean to enjoy.
Mango Bay
Home to Mango Bay Resort.  Swimming is great & there is some excellent snorkelling in this bay.  You can take a lovely stroll along the beach before breakfast as this bay links with Mahoe Bay.  Sunsets are magical from this location as well!
Mountain Trunk Bay
Is a spectacular bay with a lovely white sandy beach on Virgin Gorda's North Shore, just East off Spring Bay.   This wide beach is bordered by a private estate & is reachable by boat or along a rough path from Spring Bay.   The waters are clear, warm & the powdery sand is perfect to lay down a towel & relax with a good book.
Pond Bay
This bay is right beside Savannah Bay Beach & both are similar sharing the same entrance by the sea.  The main difference between the two is that Pond Bay is more difficult to access by land, unless of course you are staying in one of the villas overlooking the beach.  You can walk to Pond Bay via a long trail that begins just off the main road, where the North Sound road splits off into a "Y" at Pond Bay.  The trail skirts a salt pond & takes around 12 minutes to traverse.  There are no amenities at Pond Bay so bring anything you want to consume.   Those who make the effort to walk in will be rewarded as there are more trees lining the beach offering much more shade from the sun than you'll find at Savannah Bay.  
Savannah Bay
This is another beautiful beach, very quiet & great swimming.  The beach is beautiful, almost no trees & the water is azure & so clear.   There are some rocky areas which is good for snorkelling.  The further northeast you travel on this beach, the fewer boulders you'll find.  More often than not, you may find yourselves completely alone.
Spring Bay
Spring Bay is east of The Baths in an area known as The Crawl, it's popular with visitors & residents.  Spring Bay can be accessed from land along a palm-lined avenue, there are children's swings to while away the lazy days of summer & picnic tables to enjoy time with family or friends.  Spring Bay has a beautiful sandy beach, which is nestled amongst the boulders.  A trail disappears through the rocks to Valley Trunk Bay, offering secluded rock pools & swimming spots along the way.  Within the Crawl is a small bay enclosed by a circle of boulders forming a natural corral, which in earlier times was used to hold turtles and fish, but is now a natural swimming pool. A popular day anchorage, sailors can access Spring Bay from the sea, using the NPT mooring buoys to prevent anchor damage.
The Baths
This is an amazing area, giant granite boulders form a series of grottoes & pools. The Baths are part of the BVI National Park. You can get here by ferry, day sail or your own boat, just moor up & swim ashore.  Volcanism accounts for much of the Virgin Islands, granite that has eroded into piles of boulders on the beach. Granite forms from the slow cooling of magma at depth nowhere close to surface volcanoes.  The boulders form natural tidal pools, tunnels, arches & scenic grottoes that are open to the sea.  The largest boulders are about 40 feet long.
Valley Trunk Bay & Little Trunk Bay
This is a spectacular beach bordering a private estate.  Valley Trunk Bay is a beach in the southwest of Virgin Gorda, British Virgin Islands. To the south, there is also busier Little Trunk Bay Bay which is simply beautiful with it's azure clear water & rich vegetation.  This exquisite beach is just one of several that line the southwestern shore of Virgin Gorda, great for swimming & even better for snorkelling.  Crystal clear water & almost nobody else around!