Yacht Vacations
You might be thinking of some time on island at one of our lovely villas & some time sailing around the BVI.  Yacht Vacations can help with the sailing. 
Be sure to let them know that BVI Vacation Villas is where you saw them!
t: +1 (302) 303 1366 
w: https://www.yacht.vacations/list/?destination=caribbean-virgin-islands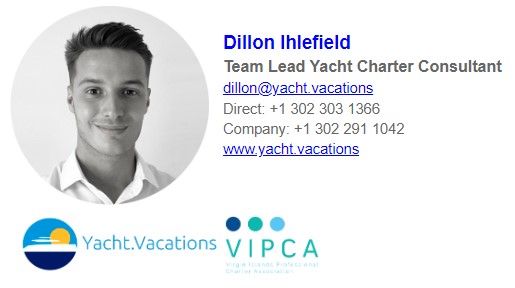 Yacht Vacations has all the resources to provide the best solution for your charter holiday on the water.  We have something for everyone. With access to thousands of charter yachts in destinations worldwide, we'll hand-pick the best charter yachts to meet your personal criteria, and only recommend yachts that we have personally inspected and chosen for our valued clients.
From your first enquiry onwards Yacht.Vacations will ensure your vacation planning is easy and enjoyable. We promise that from first contact, until after your trip, you will always deal with your own personal consultant.
No matter where you are in the world and no matter where you want to go in the world, our aim is for you to have the best imaginable charter experience in your chosen piece of paradise.
We bring you our highly personalised service and our combined knowledge of more than 30 years of experience in the charter of luxury yachts.
Leave everything to us, whether you charter for a long weekend, week, month or more.
It's that easy!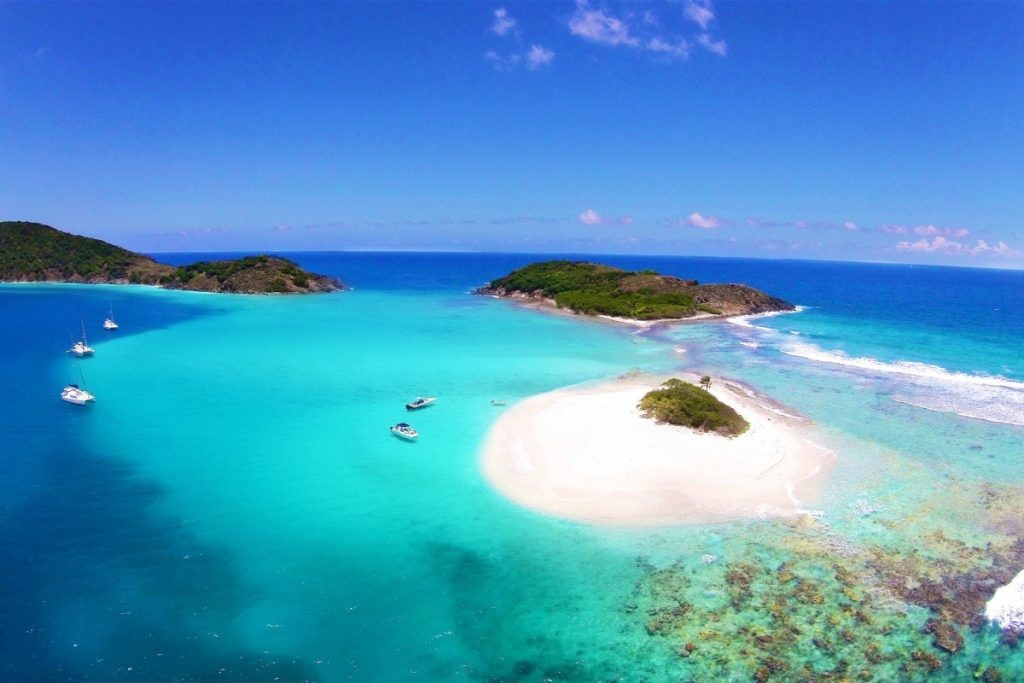 Stretching throughout the Caribbean, the British Virgin Islands are a kaleidoscope of aquamarine waters, sun-soaked harbors, and white-sand beaches. Distinct ports of call can be found among the more than 50 pristine islands that make up the BVI, making it the Yacht Charter rental capital of the world.  Throw away the to-do list and leave your day to chance, where you can search for turtles off the shores and find yourself gazing across the sea from a hilltop bar. Fill all your senses with spectacular scenery, delectable cuisine, and soft-sand beaches. The coral atoll of Anegada is the resting point of many a sunken ship and offers amazing underwater views for diving. From sprawling beaches to small villages you're sure find your own reason to cruise back on another BVI yacht charter.
Travel windward through the British Virgin Islands and catch the steady trade winds as they carry you to nearby destinations. You will find navigation a breeze between islands lined with protected bays formed for easy anchoring. Throughout the islands you will find any of your requirements just a short trip away, from onboard provisions to onshore restaurants and a night out. With your expert Crew on your charter yacht rental you are assured of receiving the support you need to make your trip, from beginning to end, leaving you with the Caribbean vacation of a lifetime. Those new to the chartering scene will find the tranquil seas and easily plotted courses of the BVI a perfect place to dip their toes into yacht vacations. And whether you are at the helm or resting on the sundeck you will find there is nothing like island hopping from the deck of your own private charter yacht rental.
British Virgin Islands Highlights
Some of the best places to see on your BVI Yacht Charter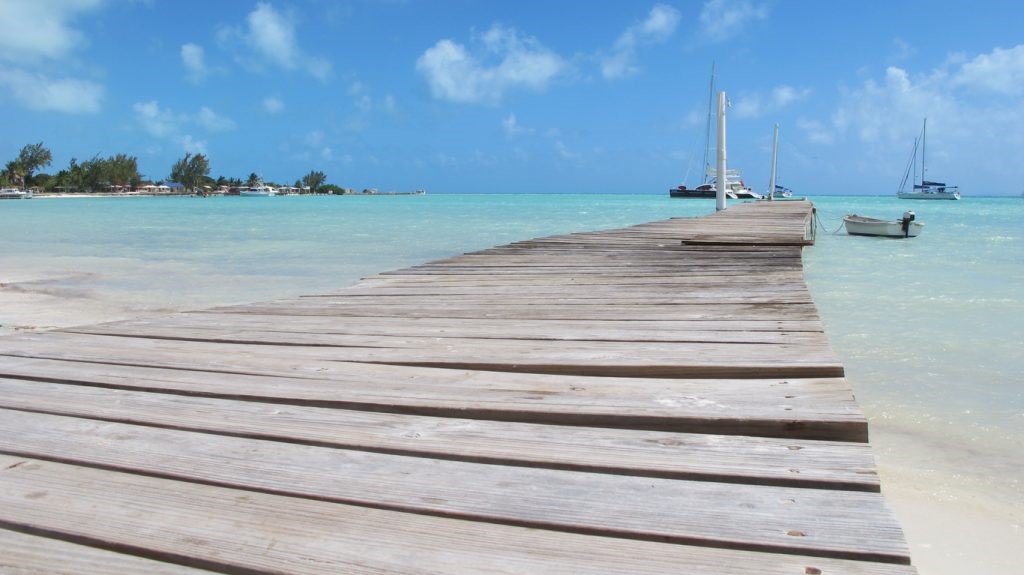 Dock on Anegada – BVI
Anegada Island
The British Virgin Islands are an exotic paradise. Beautiful Anegada is a perfect example of why these islands are so popular, a Caribbean vacationer's dream: more than 300 wrecks to dive to and explore, matched by silvery sand beaches and flocks (seriously, flocks) of flamingos. Anegada is also known as the "Drowned Island" because its highest point is just 28 feet above sea level. There are a handful of villas, hotels and privately run inns on Anegada, but most travelers choose to sail here for the day from Tortola. Hopefully you appreciate seclusion, because Anegada offers it in spades. On the up side, that means you'll never have to hunt for a good perch on the beach; the downside is you will have to hunt for the nearest convenience store (or bring your own snacks and water). If you get hungry, though, travelers insist that you head to the waterfront Lobster Trap, which specializes in fresh seafood.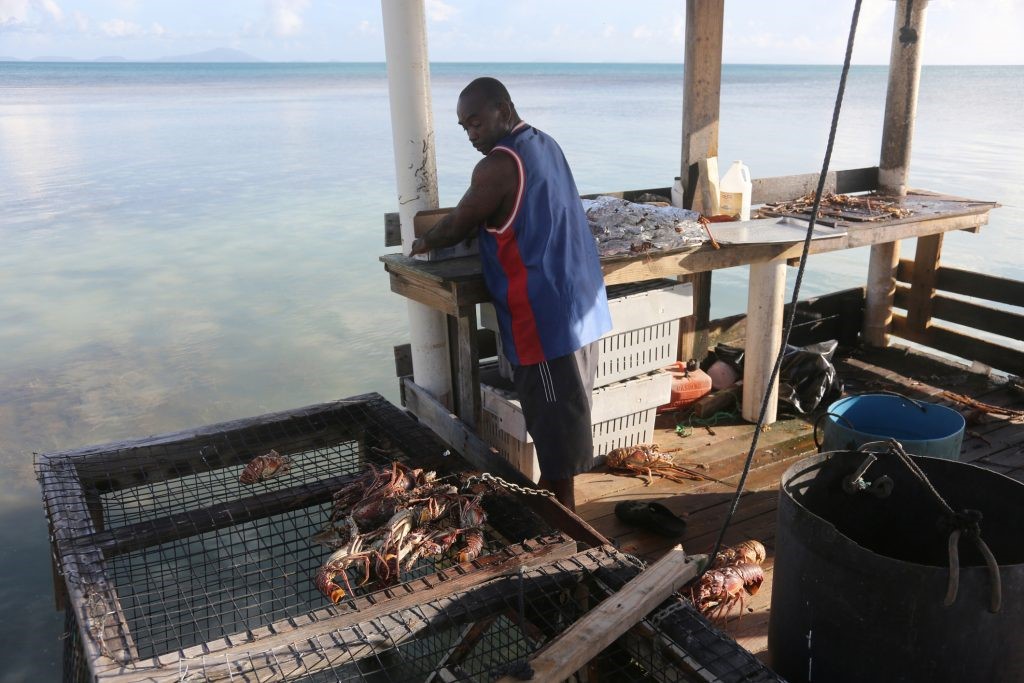 Freshly caught lobsters for the grill on a dock on the island of Anegada in the British Virgin Islands
Tourists said their visit to the tranquil Anegada was the most relaxing part of their trip to the British Virgin Islands because of its secluded landscape and virtually deserted (but particularly pristine) beaches, even after the devastation caused by Hurricane Irma. Many also recommended renting scooters to explore the island.
Virgin Gorda – The Baths
Wading through the colorful coves and granite boulders of The Baths in Virgin Gorda is undeniably the most notable experience you can have in the British Virgin Islands. Travelers and experts alike agree: It's the must-see attraction of the BVI archipelago. Massive smooth ash gray boulders of varying sizes rise from the sea's crystalline waters, making a maze of sorts for travelers to wade or swim through. Climbing through the crevices and grottoes of The Baths isn't terribly intensive, but the granite boulders can be slippery so swim shoes or sneakers are encouraged. Once you reach Devil's Bay, the stunning beach clearing at the end of the rocks, you'll find shallow clear waters perfect for a little light snorkeling or restful sunbathing.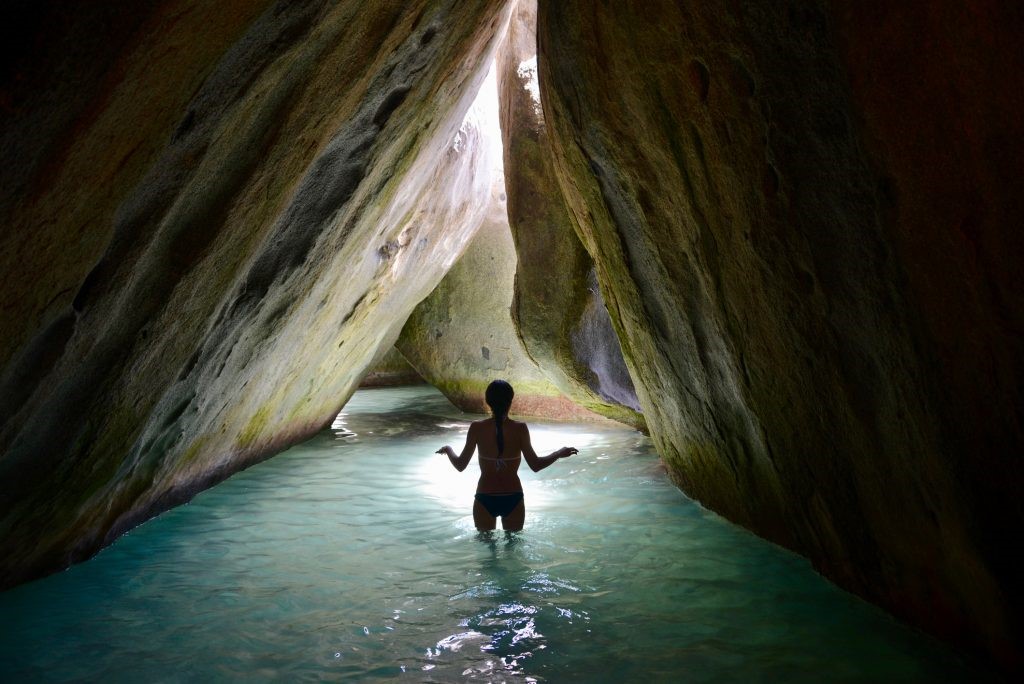 Virgin Gorda, British Virgin Islands
Visitors are consistent in their praise of The Baths, calling the natural wonder "beautiful" and the beach "pristine."  Although photo opportunities are rife at The Baths, some travelers recommend saving space on your camera for a few shots of The Baths Cathedral Room – a natural pool within a small cave. 
Cane Garden Bay
The center of activity in the BVI is on Tortola and the center of activity on Tortola is Cane Garden Bay. You'll spend the day at this northwestern beach swimming in the turquoise water, renting a boat or kayak, snorkeling around the beach's western edge and enjoying the great food. And when the sun goes down, Cane Garden Bay turns up. Happy hours are aplenty and live music wafts from local hotels with thrumming bars like Quito's Gazebo, Elm and Myett's – plus, chances are you'll be dancing.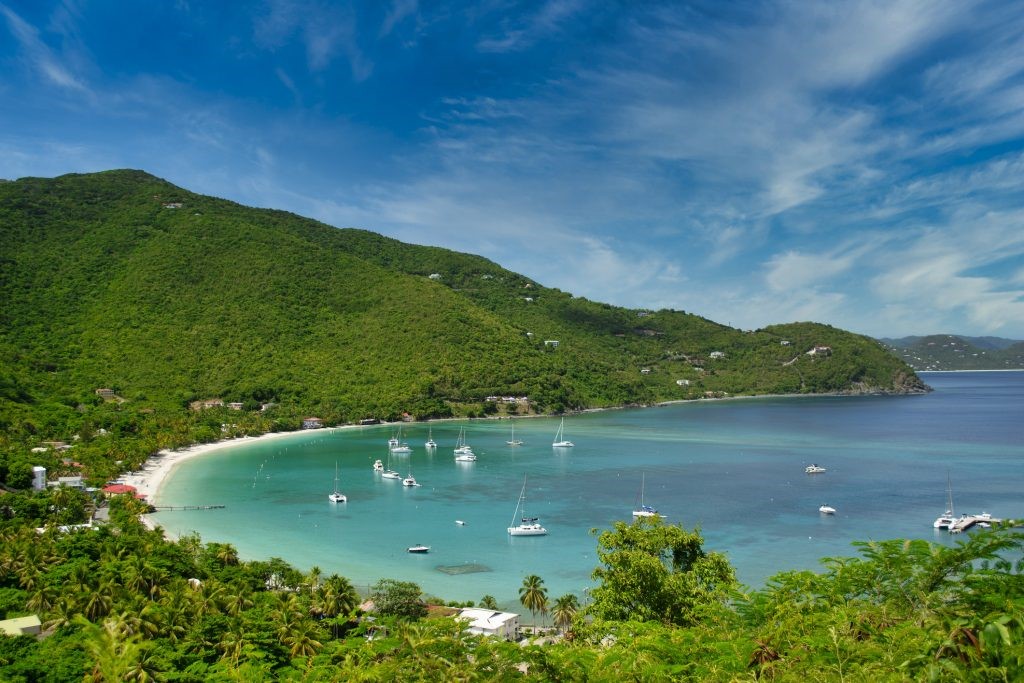 Cane Garden Bay on Tortola in the British Virgin Islands
Recent travelers can't say enough about Cane Garden Bay. They're especially amazed at how quickly the area bounced back after Hurricane Irma, noting a collection of operating restaurants and bars, and the opportunity to rent Jet Skis.
Smuggler's Cove
Its name suggests stealth, and it's true that Smuggler's Cove is the ideal shore for a clandestine beach rendezvous than it is a raucous beach with amenities galore. You'll find these sands on Tortola's western coast to be less crowded than other beaches in the BVIs, with a relaxing atmosphere and little but the horizon to enjoy. In fact, there is only one beach bar/snack stand nearby, Nigel's, which is beloved by many a traveler.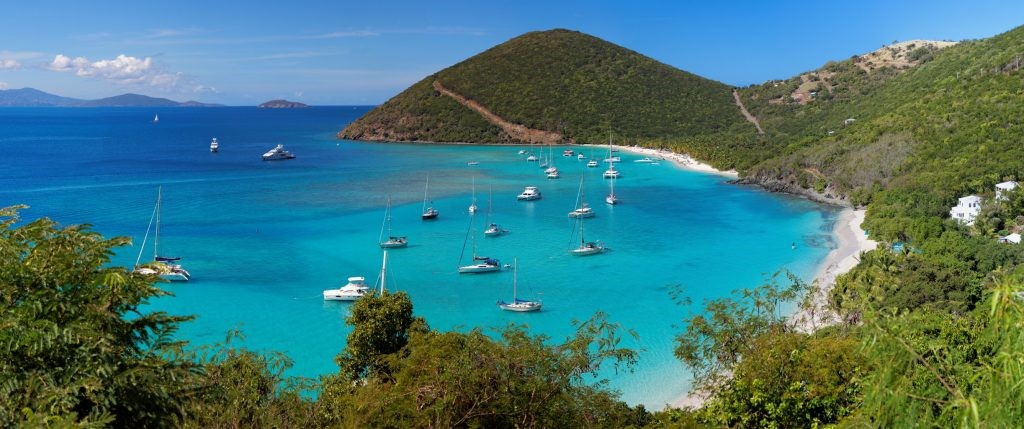 Fantastic snorkeling conditions here, with plenty of colorful fish swimming around and coral to see. Beachgoers loved the quiet atmosphere of the cove was and the calm blue water.
Smuggler's Cove is difficult to access by land, so expect it be to be tranquil, with a few other Charter Guests.
Brewers Bay
Just north of Cane Garden Bay on Tortola's northwest side is Brewers Bay, one of the best snorkeling beaches of the British Virgin Islands. The extensive reef is great for snorkeling, plus the beach is a less crowded beach option than the nearby Cane Garden Bay for those who are solely interesting in sunning and swimming.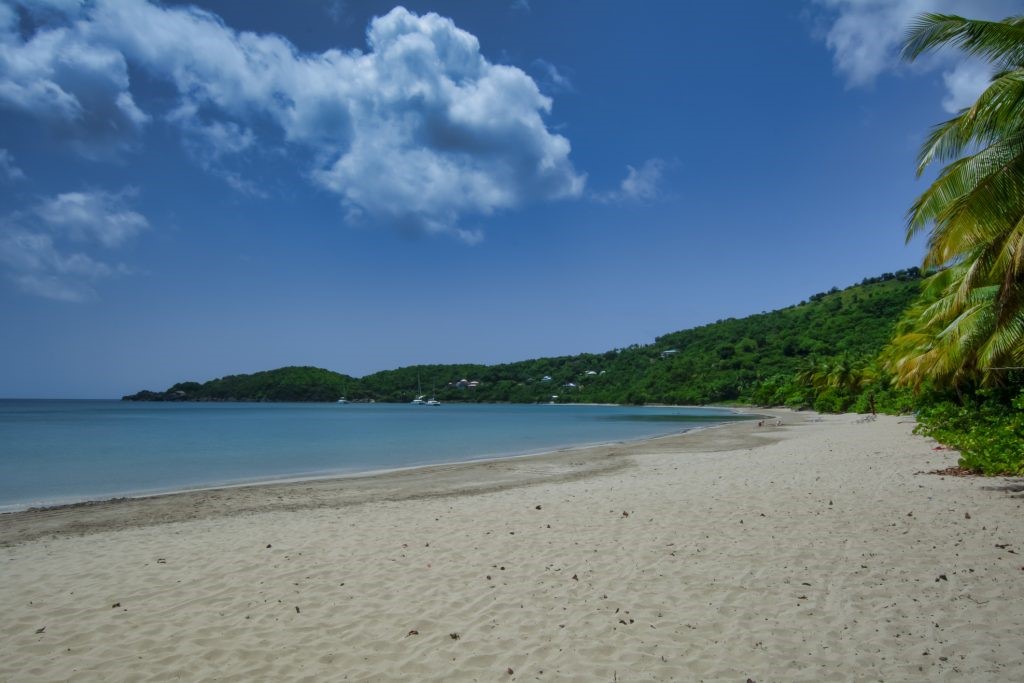 Brewers Bay on the north side of Tortola in the British Virgin Islands
Recent visitors liked the laid-back feel of this beach and snorkelers said the crystal clear water made it easy to see the colorful fish collecting around the coral reefs in the sea. Travelers also said it's a great spot to bring a book and relax on a lounge chair or go for a swim in the warm water.
Jost Van Dyke
On southern Jost Van Dyke, White Bay is one of the best beaches to relax with a drink in hand. Convenient to Great Harbour, nearly all the island's bars and several beachside cottages and villas, White Bay is almost always buzzing with activity. Many independent yachts and boats dock out in the water and passengers dinghy to shore. The actual beach part of the area offers plenty of room for travelers to lay down their towels or set up their chairs to sunbathe, whereas the bars are a more rowdy party scene. Local joints like Soggy Dollar or One Love Bar and Grill have reasonably priced burgers and bar fare, but you can also get especially potent drinks. Ask for a painkiller, a coconut, pineapple and orange juice concoction drowning in dark rum and topped off with a little nutmeg: Rumor has, this drink got its start on Jost Van Dyke.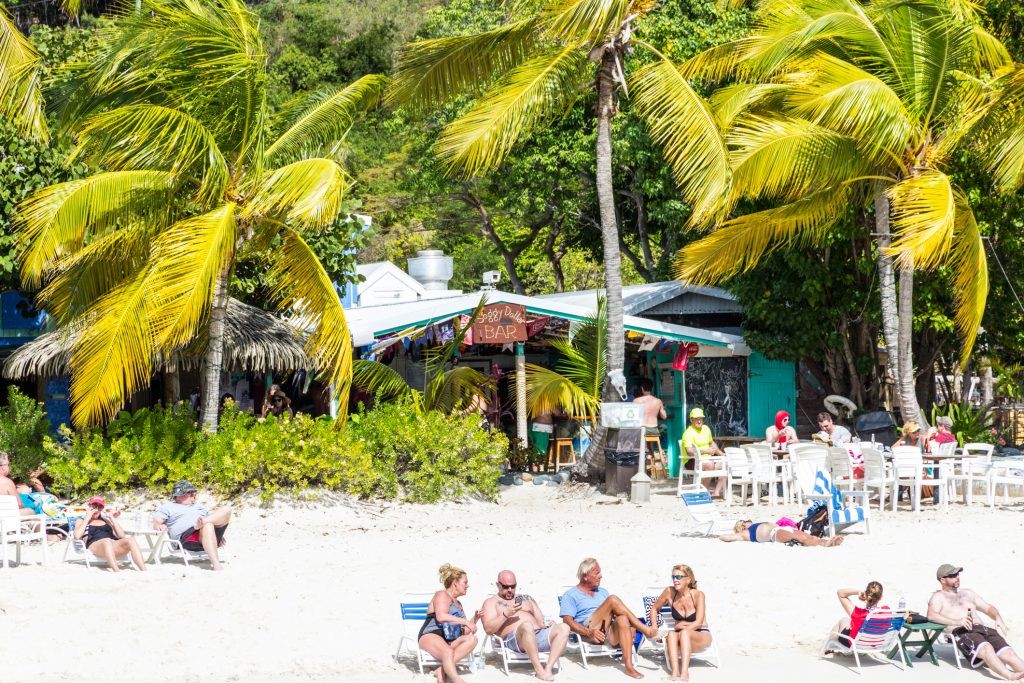 Jost Van Dyke, British Virgin Islands
Visitors travel from near and far to sip the world-famous cocktail called the "Painkiller" at the Soggy Dollar Bar.
Visitors describe the sand as some of the softest they've ever felt and the beach as one of most beautiful they've seen. Travelers say there's definitely a party vibe once more people arrive for the day and some warn it may not be the best spot to bring children.